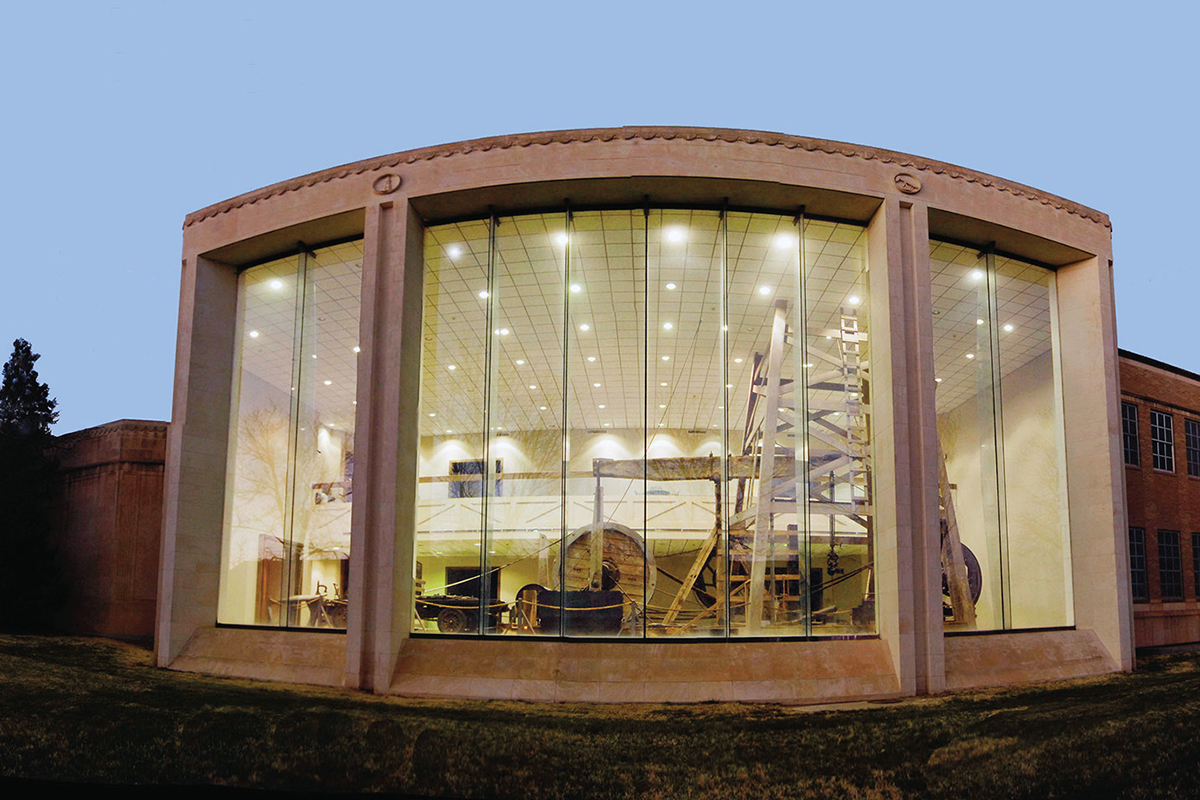 "Most people don't realize the depth and the breadth of the museum," Price says.
If your Mama told you not to brag, you probably didn't grow up in Texas—a state where size does matter. After all, it was No. 1 until Alaska came along.
But bragging rights are deserved when it comes to the Panhandle-Plains Historical Museum in Canyon, Texas, near Amarillo.
Texas's largest museum isn't shy: "It's so big, you can cover more than 26,000 square miles of Texas, all under one roof."
These days it's approaching three million artifacts that tell so many stories, you can't take it all in on one visit—hence the repeat of some 65,000 annual visitors.
Stephanie Price was in the third grade the first time she walked into the museum with her parents. "I remember looking up and being awed," she said. "It was so big and cool!"
Today, she's marketing director for the museum that traces its history back, astonishingly, nearly 100 years.
It was 1921 when the Panhandle-Plains Historical Society was organized at West Texas State Teachers' College.
Price gives top billing to Hattie Anderson, a history professor she describes as "no nonsense, a woman who took no crap." Anderson and the others—college president Joseph Hill and history chairman Lester Sheffy, plus 36 students and other staff—saw that pioneers were dying off and nobody was doing anything to save the incredible history of their struggles and triumphs.
Their first move was to put out a call—anyone have any relics of pioneer life, natural history or development of the region? Donations flowed in for years, and as legends died, their estates came here—Charles Goodnight made several large contributions; Western artist Harold Bugbee and his wife, Olive, left a $1 million estate.
The museum was so instantly popular, it needed expansion in its first year of operation, and in 1933, moved to its permanent home on the campus of West Texas A&M University. Schoolchildren donated pennies to buy bricks for its construction.
"Most people don't realize the depth and the breadth of the museum," Price says.
For instance, "Pioneer Town" has 26 buildings that embody the diversity of the region from 1890 to 1910.
"The People of the Plains" shows what life was like 14,000 years ago for the different cultures who struggled to survive.
The 8,000-item art collection includes works by Frank Reaugh, "the dean of Texas artists" and H.D. Bugbee, "the Charlie Russell of Texas."
"The Panhandle Petroleum Story" tells that part, and the T. Anchor Ranch from 1877 was moved there.
Happily, there seems to be a preservation fever in these parts. Nearby Amarillo—the Spanish word for "yellow"—had already seen its original 1887 buildings disappear and decided to not let that happen to its "second building boom" from the 1920s. Several projects are underway.
So brag away!
Jana Bommersbach has earned recognition as Arizona's Journalist of the Year and won an Emmy and two Lifetime Achievement Awards. She cowrote the Emmy-winning Outrageous Arizona and has written two true crime books, a children's book and the historical novel Cattle Kate.