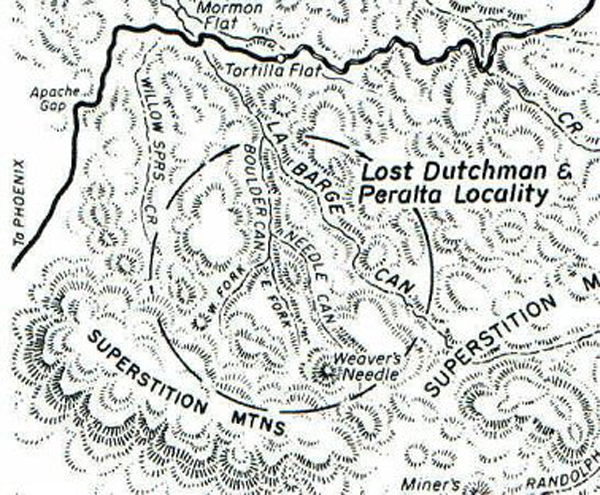 Lost gold mines are among our greatest natural resources–they don't pollute the sky with columns of acrid smoke; or collect garbage, befoul streams; or scar the delicate hillsides with unsightly tailings.  They don't cost the taxpayers a cent to maintain and equip–no asphalt parking lots, restrooms, or visitor centers.
They are real–as real as a pot of gold at a rainbow's end. True Believers know they exist.  All you need is a map, canteen of water, pick, shovel and a dream.  It's good, clean fun.
Of the hundreds of lost mines in the American West, the most famous was the Lost Dutchman.  The Dutchman had it all, including embroidered and embellished narration's, death bed ruminations, brooding, mysterious-named mountains, ghost Apaches guarding its whereabouts, and treasure beyond a Spanish Conquistador's wildest dreams.
In the early 1960s I was one of "Coronado's Children" who set out on a quest believing I'd be the lucky Argonaut who would find the Lost Dutchman's mine. In those days you could meet some eccentric old sourdoughs who were camped in the area around Weaver's Needle. This was shortly after Celeste Marie Jones and Ed Piper and their followers had a brief shoot out near Weaver's Needle. Jones believed the gold was deep inside the core of the needle and wanted to blow it up. After the gunfight both sides decided to pull up stakes.
The Superstitions are incredibly beautiful in the spring. I figure that's the real treasure but I gave up my quest when the government made it into a Wilderness Area and chased all the squatters out.
A few years later I was writing a story about the old Apache Trail that was carved out of Salt River Canyon in the early 1900s to build a construction road up to what would become Theodore Roosevelt Dam. I was rolling along in my pickup a few miles south of Tortilla Flat on a hot summer day and I had a six-pac of beer sitting beside me on the front seat. Off to my right were the fabled Superstition Mountains.
Just as I came around a curve a man with a beard and wild-looking hair who looked like a refugee from Charlie Manson's band jumped out in the road and caused me to skid to a halt.
"Can I hitch a ride to Tortilla Flat?" he said as he climbed into the pickup.
By this time he was reaching into the ice box and taking out a can of cold beer.
"Help yourself," I said.
"Do you recognize me?"
"Can't say I do," says I.
"I'm Coogan," he said, "I'm the guy who's found the Lost Dutchman's gold mine."
He pulled out a wrinkled newspaper clipping from the "Arizona Republic" that showed a photo of him and a story claiming he'd found the Dutchman's mine.  He read me the article and went on to describe how he'd come upon the mine he now referred to as "my mine" and how he would soon be a millionaire.
He finished his story about the time we pulled into Tortilla Flat. By this time there were three or four empty beer cans on the floor in front of him.  "Well, this is where I get off," he said, "but since you were so nice, I'm going to give you a half share in my mine."
Before I could thank him for his generosity, he grabbed the last can of beer from the ice box and was gone.
As I drove on up towards Roosevelt Dam, it occurred to me, he hadn't asked for my name or address.  But, I remain an optimist and I still expect that one day Coogan will show up at my doorstep with my share of the Dutchman's gold. If that doesn't happen I can take comfort in the fact that I'm half-owner of a lost mine.
Like this story? Check out The Crazy Legend of Red Ghost.