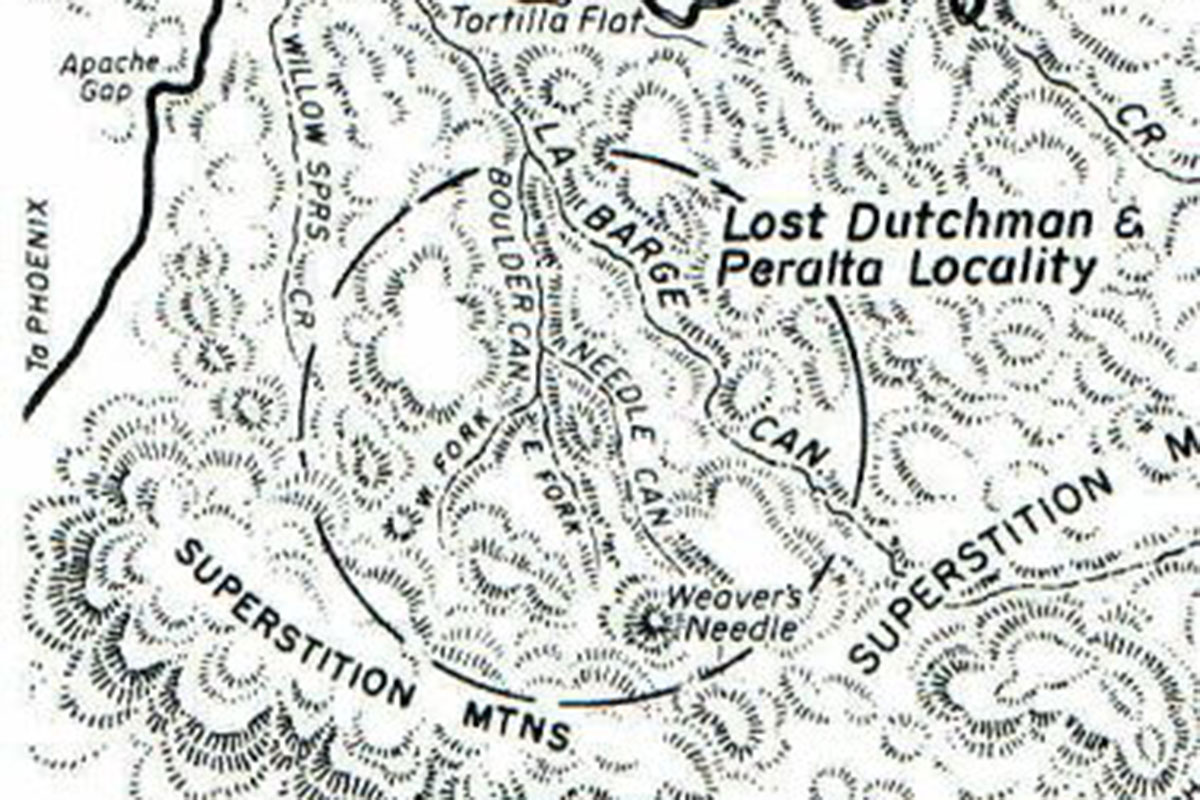 The Lost Dutchman is one of the greatest lost mine stories of them all. I've spent years studying and writing about it (even searching for it) and I don't believe Jacob Waltz had a fabulous gold mine in the Superstitions. The late Tom Kollenborn was the foremost expert on the legend and a good friend. I have to agree with him, there was a German prospector named Jacob Waltz and he was in Arizona but he had no gold mine in the Superstition Mountains.
An African-American woman, Julia Thomas, was his caretaker in his last days. He made deathbed ruminations about a fabulous gold mine and drew a crude map. After his death she searched in vain for it before giving up. She did make a few bucks selling copies of the map on the streets of Phoenix.
In 1892, she told the story to a writer named Pierpont C. Bicknell, who had a fertile imagination and penchant for lost mines. With a grand display of literary license and embellishment, he created the legend we are most familiar with today. He provided provocative clues to the whereabouts of the Dutchman's gold and for the first time used the phrase, "Dutchman's Lost Gold," incorporating the Weaver's Needle into the tale. He may have even included the embroidered story of the fictitious Peralta family.
The story was published in the San Francisco Chronicle in January, 1895. Prior to that, there had been no linkage between the Peralta family, Jacob Waltz, the Dutchman's Lost Gold Mine and Weaver's Needle. Bicknell seems to have woven them all into one tale.
The story had all but died until the summer of 1931 when an elderly man with a cane named Adolph Ruth arrived in Arizona with a map leading to the Dutchman's gold. Despite warnings he wandered into the mountains. A few months later his skeleton was found. It made the national newspapers and Bicknell's story was resurrected. A whole new generation of Dutchman hunters was born.
Lost mine stories are a treasure without the gold. Except when some seeker goes out in the middle of those hot desert summers and gets themselves lost. They don't cost taxpayers a penny. Because nobody knows the exact location of the lost treasure, they don't have to build a visitor center, parking lot or restrooms.
Don't get me wrong. I love lost mine and treasure stories. I grew up devouring such books as J. Frank Dobie's, "Coronado's Children" and was one of the great conquistador's offspring. I never found the gold, never even found a nugget but I did find some good stories.
Marshall Trimble is Arizona's official historian and vice president of the Wild West History Association. His latest book is Arizona Outlaws and Lawmen; The History Press, 2015. If you have a question, write: Ask the Marshall, P.O. Box 8008, Cave Creek, AZ 85327 or email him at marshall.trimble@scottsdalecc.edu.