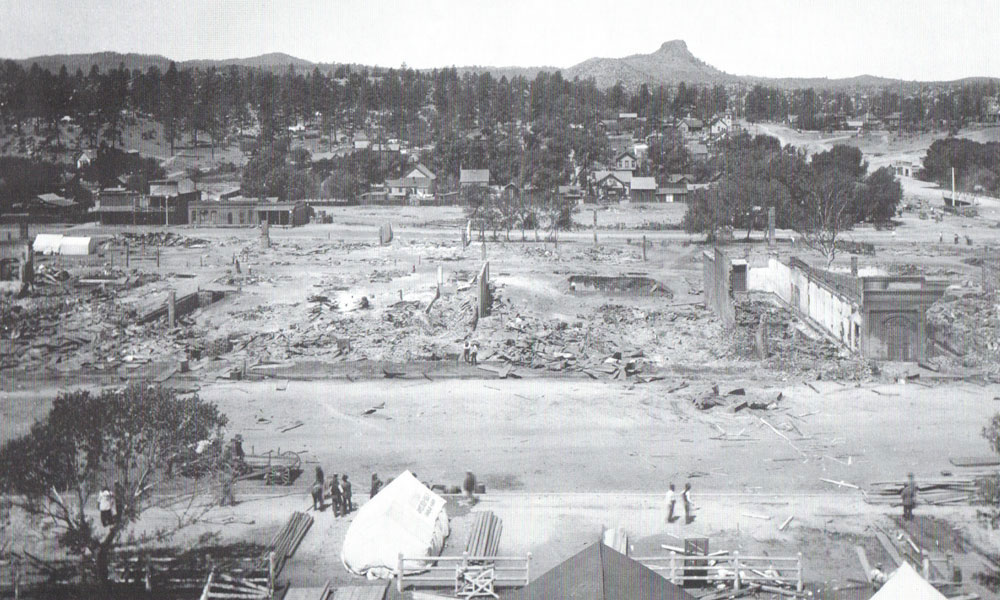 Fires were always a menace to frontier towns. The boomtowns of Prescott, Bisbee, Jerome, and Tombstone all burned to the ground more than once during their heyday. With all those coal oil lamps and candles it took only one careless mistake and it was katy-bar-the-door.
It was a warm, sultry evening in Prescott that 14th day of July in the year 1900. The saloons and gambling casinos along Whiskey Row were gearing up for a big Saturday night shindig. Gamblers were dealing cards; the bargirls were hustling drinks. The rinky-tink sounds of piano music emanated from each raucous saloon.  Boisterous, devil-may-care cowboys, railroaders and miners were bellying up to the bar for a night of revelry.
Yavapai's County's colorful sheriff, George Ruffner was heard to comment, "To jail all the drunks tonight, you'd have to put a roof over the whole town."
Over at the Scopel Hotel on the corner of Goodwin and Montezuma Streets, a miner came in from his shift, jammed his pick candle into the wall and starting sprucing up for a night on the town.  Anxious to get down to the saloons he forgot to blow out the candle. Sometime around 10:30 the candle set fire to the wooden structure and soon the entire hotel was engulfed in flames.
The fire quickly spread through the business district. Volunteer firemen, pulling hose carts rushed out to fight the flames, which had by now engulfed notorious Whiskey Row.
Folks grabbed what they could and rescued it from the raging fire. A barber hoisted his chair and his barber tools from the burning destruction and moved his business to the plaza's bandstand.
Down at the famous Palace Bar, loyal customers gallantly picked up the back bar and all its precious contents and carried them across Montezuma street where the County Court House sits today. Others picked up the piano and carried it to the safe environs of the plaza.
Prescottonians weren't going to let something like a fire spoil their evening. So, while Prescott burned through the night, business resumed outdoors; the barber continued to give shaves and haircuts, a resourceful bartender served drinks and the piano player banged away on the ivory keys.
And those frontier folk never lost their sense of humor either. The most requested tune that evening was, "There'll Be A Hot Time In The Old Town Tonight."
Like this story? Try: Did Most Old West Towns Have "No Carry" Gun Laws?