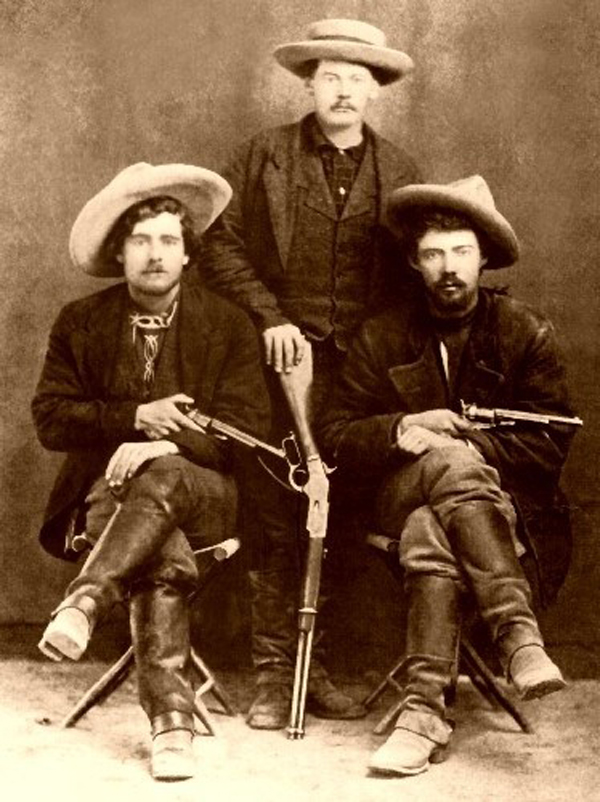 On August 10th, 1883 the Florence-Globe Stagecoach was robbed about two miles from the remote Riverside Station on the Gila River by the Red Jack Almer gang. The gang had pulled a number of stage robberies in the area.
Jack had boarded the stage at Florence after watching two men load a heavy Wells Fargo strong box. One account says he was wearing a dress, passing himself off as a woman.  He got off at Riverside and started walking ahead. His two partners Charlie Hensley and Joe Tuttle waited until they saw Jack on the stage then rode ahead to a pre-determined place on an incline. When the coach reached the hill and slowed down they opened fire without warning killing shotgun guard Johnny Collins and a couple of horses. They handed a new hatchet to passenger Felix LaBlanc and ordered him to break open the strong box. They rode off heading up the Gila River to its junction with the San Pedro with some $2,000 in silver and $500 in gold coin.
A posse led by Pinal County Sheriff A. J. Doran and assisted by former sheriff Pete Gabriel, following a lead, rode up the San Pedro River to Len Redfield's ranch where they spent the night. Next morning while forking some hay for their horses, accidentally found a Wells Fargo strongbox and a new hatchet hidden in a stack of hay. Later they found another box with more loot. They concluded one had come from a robbery near Bisbee. Redfield denied knowing anything about the loot but they wrung a confession out of Joe Tuttle and had enough evidence to arrest Redfield too. They were taken to Florence and jailed. An angry mob of vigilantes came in through the back door, took Tuttle and Redfield, and hanged them from the rafters.
A posse led by Pima County Sheriff Bob Paul and Sheriff Doran ran down the other robbers, Red Jack and Charley Hensley on October 4th at their hideout in the Rincon Mountains and killed them after a pursuit over near Willcox. The loot was never recovered and remains buried somewhere near the gang's hideout.
Len Redfield's ranch was also where Luther King was arrested by the Earp posse following the attempted Benson stagecoach robbery in March 1881, one of the events that led directly to the Gunfight near the OK Corral in Tombstone later that year. Ironically, Paul was the shotgun messenger on the Benson stage.