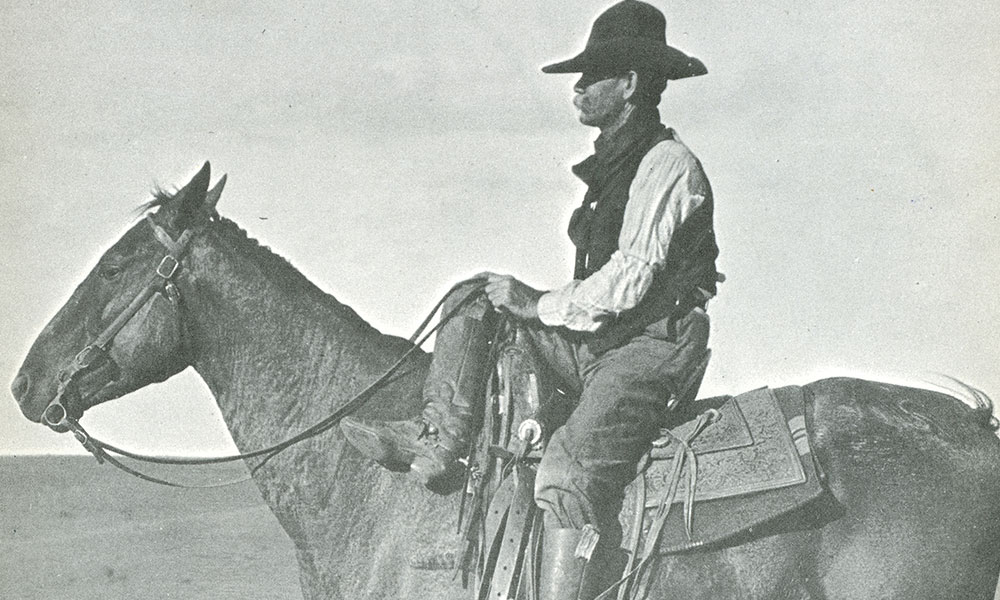 There's been many a young man or woman who dreamed of climbing into a time machine and transporting themselves back to the days when the West was wild and free. That raises the question, how much dinero would it take to equip one's self.
One didn't need an outfit to go west and become a cowboy. Some adventure-seeking youngsters headed west afoot with little more than the clothes they wore. Take for example, Little Joe the Wrangler:
It was long about last April he rode into our camp
Just a little Texas stray and all alone.
It was long late in the evening when he rode into our camp
On a little old brown pony he called Shaw.
In his brogan shoes and overalls a harder lookin' kid
You never in you life before had saw.
His saddle was a Texas kack built many years ago
An OK spur on one foot idly hung,
With his bed roll in a cotton sack was loosely tied behind
And a canteen from the saddle horn he'd slung.
They used to say "all you needed to be a cowboy was guts and a horse…..and if you had guts you could steal a horse."
There was another saying that became the title of a Don Rickey Jr. book, "$10 and a $40 saddle," from the song, The Old Chisholm Trail. Rickey doesn't get specific on the prices of the other items to fill one's war sack and the price would vary greatly on where and when you bought it and whether it was new or used. The original Stetson hat cost $5 and during the heyday of the open range cowboy a good beaver hat ranged from $10 to $30. Trousers, shirts, coats and vests might come from a second hand store.  Most waddies didn't come looking for a job dressed to kill. Those dandies that did were mockingly described as, "looking like they'd just stepped out of a Sears and Roebuck catalog." These prices would naturally vary some but a pistol would set you back about $20. An 1873 Winchester might run $40. The octagon barrels cost even more. A belt and holster cost two to three dollars.  A thousand rounds of .44-40 shells would cost about $19 or about two cents a cartridge.
It would be pretty much the same for someone already in the West. You could get by on the bare essentials when you hired on. The ranch could provide a horse but you'd need your own saddle and bridle. You might even hire on and pay for your saddle out of your wages. Most of those cowboys had very little in the way of personal stuff–they could get everything they owned in their warsack. You could also buy stuff you needed to get started from the other hands and pay them out of your wages.  While writing a book on the famous CO Bar Ranch north of Flagstaff many years ago, one of the cowhands told me a story about a wannabe who'd bought himself some fancy duds at a western store in town. He looked more like the Urban Cowboy than the real deal. He walked up to the range boss and asked if was hiring. The boss looked him over, took a drag on his cigarette and replied, "No thanks! I'm short-handed enough already."
Marshall Trimble is Arizona's official historian and vice president of the Wild West History Association. His latest book is Arizona Outlaws and Lawmen; The History Press, 2015. If you have a question, write: Ask the Marshall, P.O. Box 8008, Cave Creek, AZ 85327 or email him at marshall.trimble@scottsdalecc.edu.