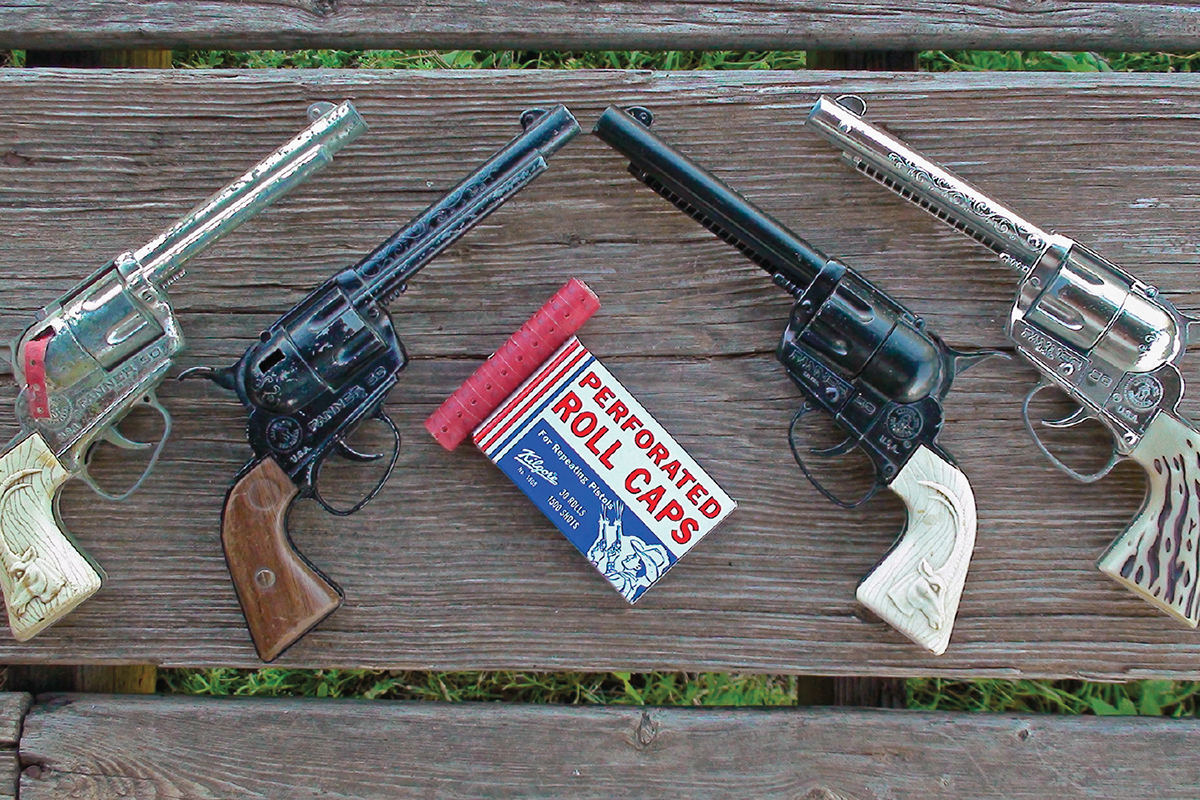 Back when I was a kid, cap guns ran the gamut from the tiniest derringers to pirate pistols, holster-sized cowboy six-guns and cops-and-robbers-style slab-sided semi-auto-type pistols, up to lever-action rifles and even tommy guns and ray guns! Despite the vast array of cap guns available, it was the "Peacemaker-styled" Western six-shooter that was the pièce de résistance. Virtually every toy manufacturer offered one or more cowboy cap pistol.
Cap guns first appeared in the mid-1860s, following the end of the Civil War, when some firearms companies began making toy guns to help compensate for the lost military contracts of the war years. However, it was the movies and television of the 1940s through the 1960s that ushered in the Golden Age of cap guns. Silver screen cowboys Roy Rogers, Dale Evans, Gene Autry and John Wayne, along with fictional range riders like the Lone Ranger, Hopalong Cassidy, the Cisco Kid and Marshal Matt Dillon, stirred our imaginations. Toy companies like Mattel, Hubley, Halco, Nichols—even Britain's Lone Star Toys—kept us properly armed so we could tame our neighborhood frontiers. Some cap guns bore the names of our cowboy heroes and heroines, like Richard Boone's "Paladin" or Gail Davis' "Annie Oakley," while others had Western monikers like the Texan, Mustang, Pioneer, Colt 45 or Stallion 45.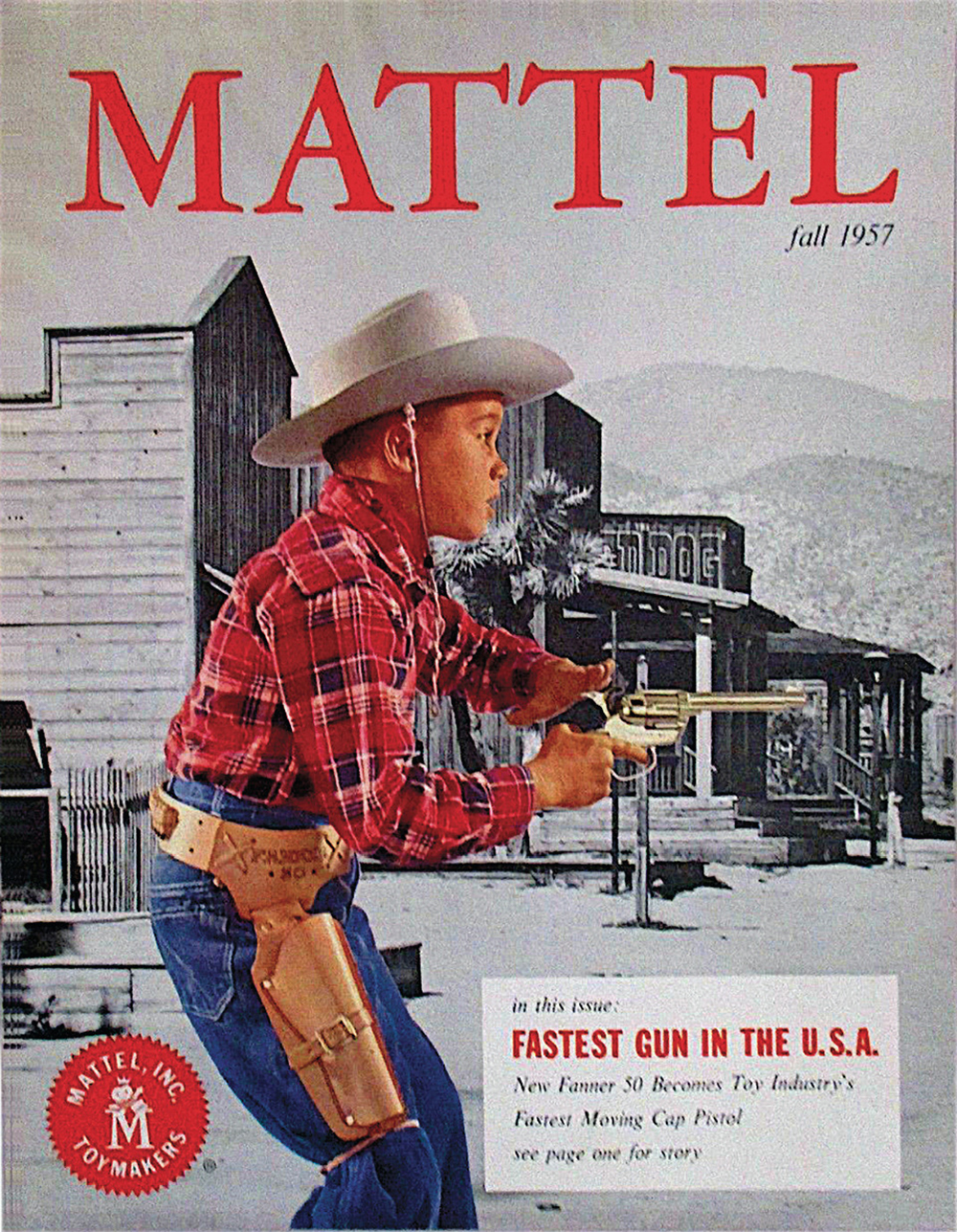 These die-cast metal cap guns were so popular in those bygone days that during one year in the early 1950s, the Hubley Toy Company stated in February of that year, they had sold out all the cap pistols they could produce until the following year! Another, Nichols Industries, claimed it was producing one of its toy derringers every two seconds and could only fill about two thirds of its orders!
Arguably the most popular and best remembered by anyone who grew up blazing away with those perforated rolls of paper ammo was Mattel's Fanner-50 series (the 50 designation is for the 50-shot rolls of paper caps). The series was introduced in 1957 by Mattel, a little after my own cap gun totin' years, although my youngest brother had several. There were many different Fanner-50s, some with revolving cylinders, although most did not have that added authentic feature. Fanner-50s lasted until around 1975, coinciding with the cancellation of the last TV Western, Gunsmoke, and by the mid-1980s, most of the toy cap gun companies had either ceased toy gun production, or were gone.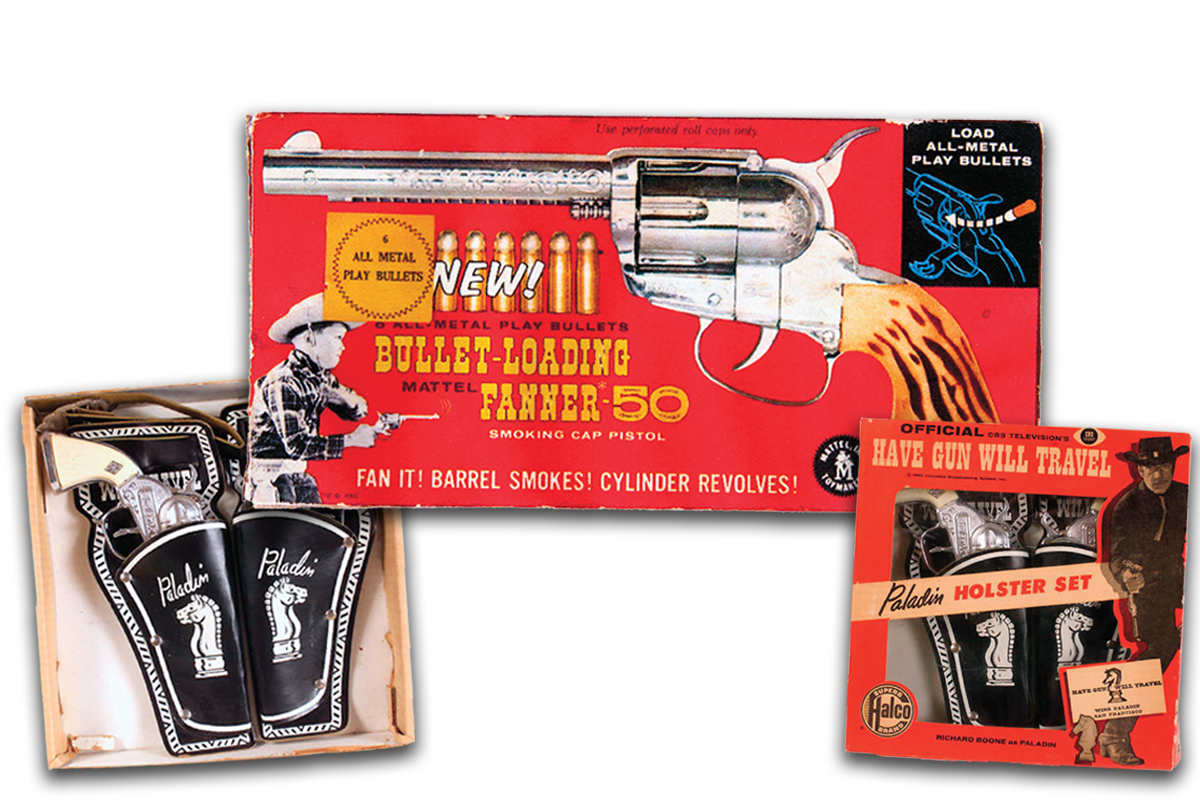 Fanner-50s included models like the Ramrod, Cowboy, Gunfighter, a Lone Ranger double holster set, Chuck Connor's Cowboy in Africa double-holster set, and even 1968's Planet of the Apes Fanner-50. Mattel produced unique Fanner-50s like the swivel shot trick holster, smoking cap pistol; a Shootin' Shell 45 model that used the Greenie Stik-M-Caps; and the Bullet Loading Fanner-50. This last model took non-firing metal play cartridges. You stuck caps on the backs of each one, which produced smoke when fired. As you can see, there were too many models to list them all here.
Cap guns aren't as popular nowadays as they were back when I was a young'un riding my make-believe range. We now live in a different culture and many adults abhor the thought of their little ones playing with such weaponry. I feel sorry for the kids of this enlightened age who do have toy guns, but are forced to shoot it out with their pals with a hogleg that has an ugly orange plug on the muzzle. To this ol' six-gunner, it just ain't the same. Call me old-fashioned, but I remember when cap guns were cool!
Phil Spangenberger has written for Guns & Ammo, appears on the History Channel and other documentary networks, produces Wild West shows, is a Hollywood gun coach and character actor, and is True West's Firearms Editor.