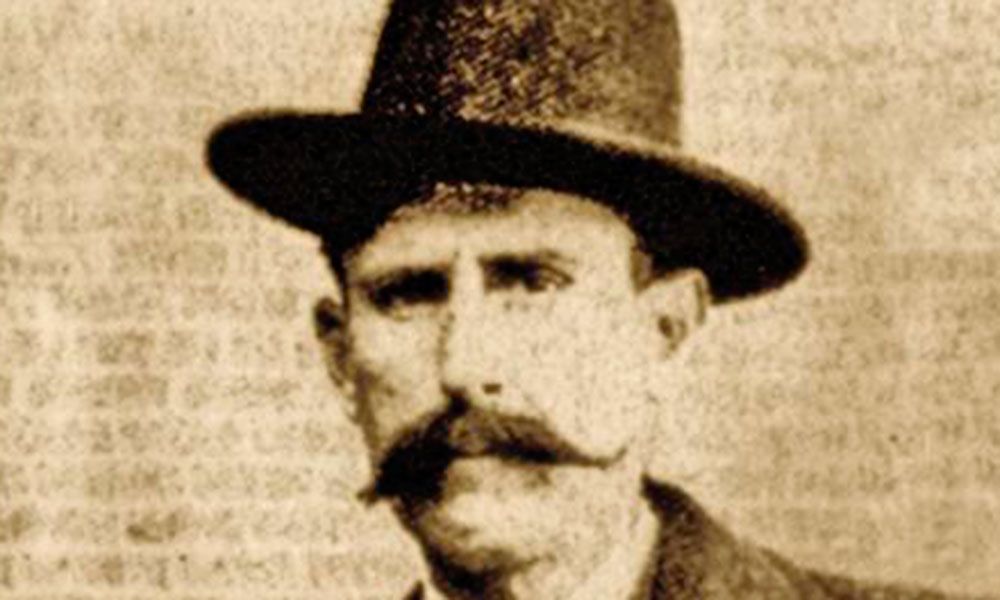 Many famous outlaws died robbing banks and trains. Some, however, died in peculiar ways. For example, during a train robbery the Tall Texan, Ben Kilpatrick, died when a mail clerk hit him on the head with an ice mallet. Jesse James was shot in the back by little Bob Ford while standing on a chair adjusting a framed needlepoint, done by his mother. Bob and Grat Dalton, wearing fake whiskers, tried to rob two banks in a town where the boys were well-known. I always imagined that folks who saw them riding in were saying, "Here come the Daltons and they're wearing fake whiskers. They must be planning to rob our banks!"
Billy the Kid walked into a dark bedroom at Pete Maxwell's house was gunned down by Sheriff Pat Garrett.
Two of Oklahoma's most notorious outlaws, Arkansas Tom and Matt Kimes are nearly forgotten today. Their departures were among the most unusual.
Arkansas Tom rose to outlaw notoriety at the so-called "Battle of Ingalls," on September 1st, 1883 when a large posse invaded the town in attempt to capture the Doolin-Dalton gang. The gang, which included Bill Doolin, Bill Dalton, "Bittercreek" Newcomb, "Dynamite Dick" Clifton, Charlie Pierce, "Tulsa Jack" Blake and "Arkansas Tom" Jones were holed up in a local hotel.
Arkansas Tom wasn't feeling good that day and he went upstairs to take a nap. When the fight began he had an aerial view of the action. He reined gunfire down on the posse, thus allowing the other five to escape. Faced with either surrendering or being blown up with dynamite he finally threw in the towel. Charged with manslaughter Arkansas Tom was sentenced to fifty years but was released in less than twenty.
Like many other outlaws, Arkansas Tom, was an alias. His real name was Roy Daugherty. U.S. Marshal Evett Nix secured an early release in 1901 so he could perform in a traveling Wild West show where he appeared as "Oklahoma's Most Notorious Criminal. This was short-lived and he was returned to prison.
In 1910, Nix, along with fellow lawmen Bill Tilghman and Chris Madsen got him released again to work on a film the latter two were making in Hollywood. He and Sam Starr got small parts playing themselves in "The Passing of the Oklahoma Outlaws," the 1915 silent film directed by and also playing himself, Oklahoma lawman Bill Tilghman.
Both Starr and Roy soon returned to their former stock-in-trade, robbing banks. On December 13th, 1916 Roy robbed a bank in Oronogo, Missouri. On January 13th, 1917, he teamed up with three others and robbed a bank in Fairview, Missouri. He was caught and returned to prison.
Released for good behavior mid-way through his sentence in 1921, he and three others robbed another bank in Asbury, Missouri.
Lawmen caught up with him on August 16th, 1924 at his friend Red Snow's home in Joplin, Missouri. A gunfight ensued and after his pistol jammed Arkansas Tom was shot and killed. He was the last survivor of the Doolin-Dalton Gang.
Nearby was Snow's child, howling with fright. Tom had been babysitting Red's kid when the shootout began….and ended.
Matt Kimes began his outlaw career during the 1920s as a petty thief and quickly moved up to bank robbery. His first holdup was in Depew, Oklahoma on June 30th, 1926 just a day after he finished serving a jail term for burglary.
A couple of months later he and his gang robbed another bank in Beggs, Oklahoma and a few days after that in Covington, where they looted two banks simultaneously. They almost robbed a third one but were foiled because the outside bank clock was a few minutes off from the clocks on other two.
On August 13th, 1926, Kimes took time off from robbing banks to marry a 14-year-old girl named Bertha Bozart.
On August 27Th he killed a deputy in a shootout but surrendered to officers after being wounded. He was given 30 years for killing the deputy.
On November 21th, 1926 six members of the gang helped Matt escape and on January 10th, they robbed another bank in Sulpulpa, Oklahoma.
On May 27th, 1927 Kimes and eleven members of the gang returned to Beggs and looted two banks of $18,000. During their getaway Kimes gunned down a town marshal. The law caught up with him in Flagstaff, Arizona and he was given a life sentence at the state pen at McAlester.
After several years behind bars authorities must have figured Kimes was reformed as he was given a leave in November, 1945. Unable to resist the temptation he robbed a bank in Texas.
Before lawmen could re-capture Kimes, one of the Roaring Twenties most notorious bank robbers and escape artists was run over and killed by a truckload of chickens.
Arkansas Tom, shot down while babysitting and Matt Kimes run over by a truckload full of chickens.
Jeff Guinn got it right when he wrote, "You gotta die right to cement yourself as an icon in American History."
Marshall Trimble is Arizona's official historian and vice president of the Wild West History Association. His latest book is Arizona Outlaws and Lawmen; The History Press, 2015. If you have a question, write: Ask the Marshall, P.O. Box 8008, Cave Creek, AZ 85327 or email him at marshall.trimble@scottsdalecc.edu.