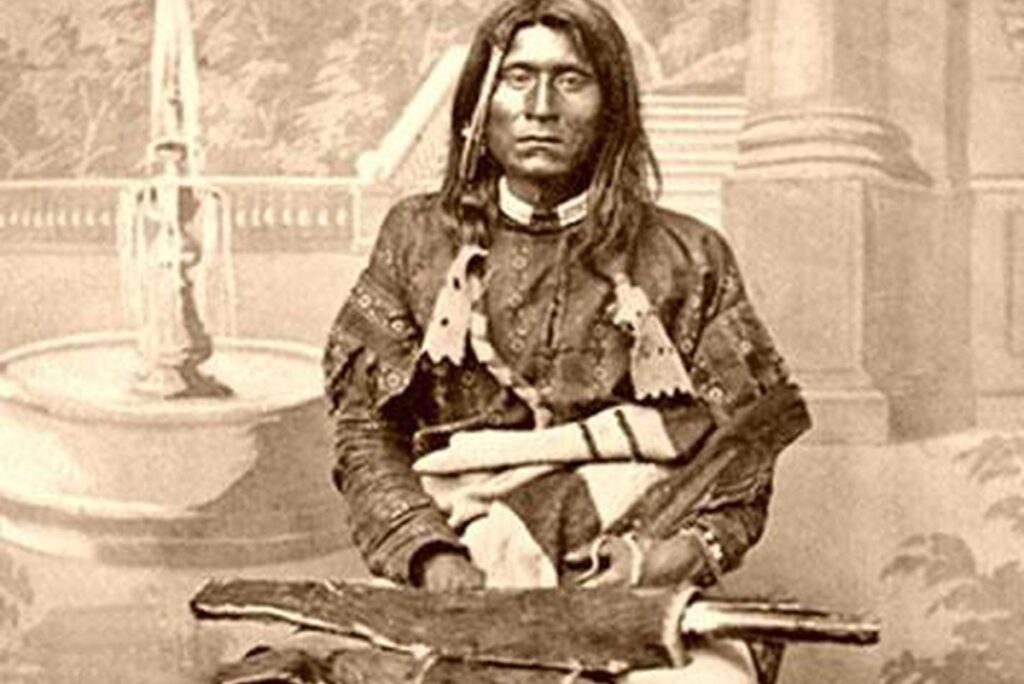 Because white settlers coveted their ancestral lands in 1864 the U.S. government pressed the two tribes to relinquish most of their territory in south-central Oregon and northern California and take up residence on a reservation around Upper Klamath Lake. The land was traditionally Klamath, however, and that tribe treated the Modoc as intruders. The U.S. Government failed in its treaty obligations to supply rations to the Modoc.
In 1870 an insurgent band of Modoc under Kintpuash, a sub-chief known to the American military as Captain Jack, left the reservation. Federal efforts to force this group's return precipitated the Modoc War of 1872–73, in which about 80 warriors and their families retreated to the California Lava Beds, a land of complex ravines and caves; there they mounted an effective resistance. Captain Jack, leading a coalition of Modoc bands in a war of resistance against U.S. forces and the local militia, held off a numerically superior force for several months.
During peace talks on April 11th, 1873, Captain Jack committed an unforgivable act, even to his own people, by striking down unarmed men during negotiations. They murdered General Edward Canby, a distinguished Civil War veteran, and two peace commissioners.
Betrayed by four of his followers Captain Jack surrendered. He and three other Modoc leaders, Boston Charley, Black Jim, Schonchin John were tried and convicted. They were hanged by the Army at Fork Klamath in southeastern Oregon on October 3rd, 1873. The entire Modoc band from Lost River was forced to witness the execution. All the soldiers from Fort Klamath were also required to attend. Captain Jack was the only principal Native American leader to be tried and convicted as a war criminal.
The remaining Modoc were escorted to a reservation on Shawnee in the Indian Territory (Oklahoma). They were settled at Seneca Springs at the Quapaw Agency almost a year after the war began
They arrived at their destination, Seneca Springs on the Quapaw Agency, almost one year after the war began. Captain Jack's Modoc followers were not allowed to return to Oregon until 1909but they did not regain their former reservation lands most of which were incorporated into the Winema National Forest.