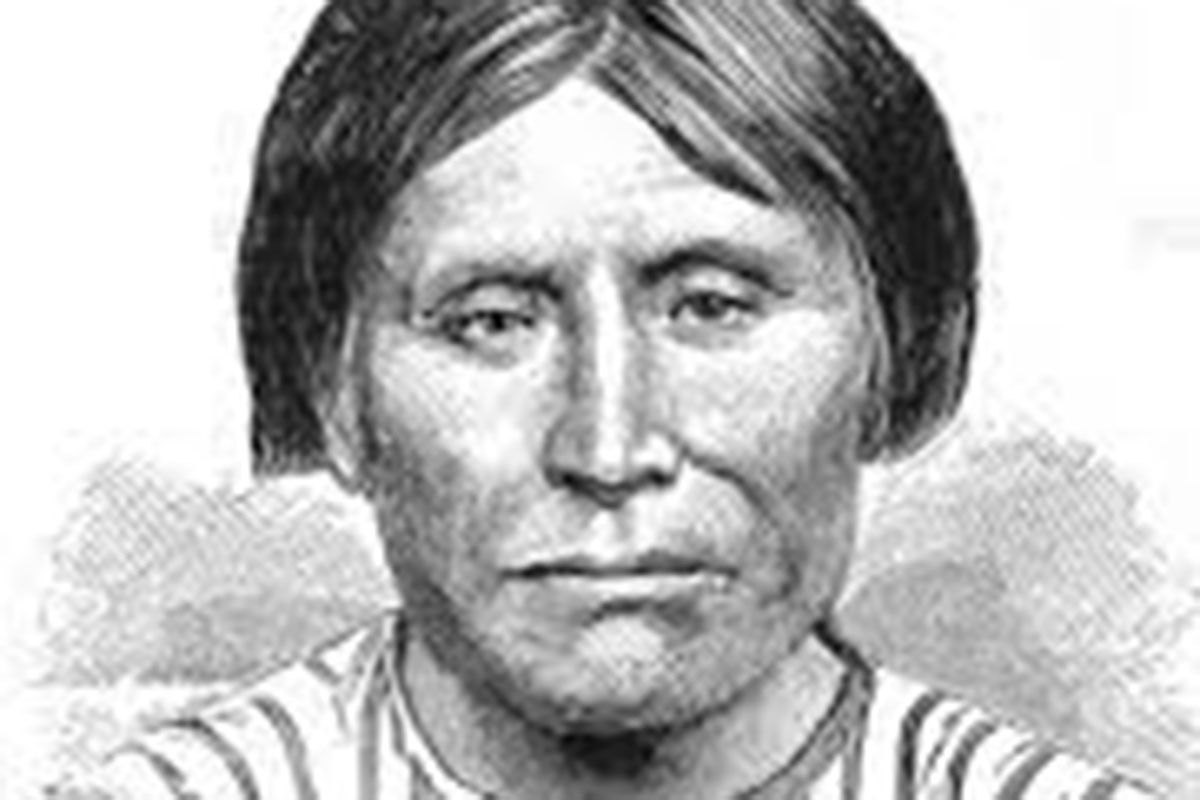 Captain Jack is relatively unknown in the annals of western history. His real name was Peintposes Kintpaush and he was a Modoc sub-chief who lived on the California-Oregon border. He acquired his nickname from the local miners, with whom he got along well, around Yreka for wearing brass-buttoned military jacket given him by the soldiers.
As whites began encroaching on Modoc lands friction between the two groups heightened. The Modoc were them re-located to the Klamath Reservation in Oregon. Jack gathered his people and bolted the reservation and went home. However further troubles with the local ranchers brought pressure to remove them again. There was a clash between the Modoc and the soldiers and men on both sides were slain as were some civilians.
The Modoc fled to the Lava Beds to the south and Captain Jack became the reluctant leader of a small war. Knowing they couldn't win he wanted to surrender but was voted down by other leaders.  The Modoc won a battle against the soldiers at the Lava Beds and he was taunted as a coward by the other leaders. The only way he could restore his reputation was to kill General E.R.S. Canby who headed a peace commission. During a conference he murdered Canby. Several others were also killed.
The Modoc began quarreling among themselves and split up, leaving their sanctuary. In the spring of 1873 Captain Jack and his group surrendered to Captain Joel Trimble. He and four others were court martialed and sentenced to hang. The real hostiles got off by testifying against their fellow Modoc.
Captain Jack was hanged October 3, 1873.
His is a tragic story. His people were compelled to leave their homeland and live with an incompatible tribe. He was against the war but was overruled by others and was goaded and taunted into murdering General Canby and the Reverend Eleazer Thomas.
After his burial Jack's body was dug up, embalmed and shipped back east. Legend has it he was exhibited at a sideshow for ten cents a view.
As to why he's not better known; Captain Jack was not a great warrior and he allowed himself to be goaded into treacherously murdering a peace commissioner. His is a tragic story but he was not the stuff of heroes.
Marshall Trimble is Arizona's official historian and vice president of the Wild West History Association. His latest book is Arizona Outlaws and Lawmen; The History Press, 2015. If you have a question, write: Ask the Marshall, P.O. Box 8008, Cave Creek, AZ 85327 or email him at marshall.trimble@scottsdalecc.edu.