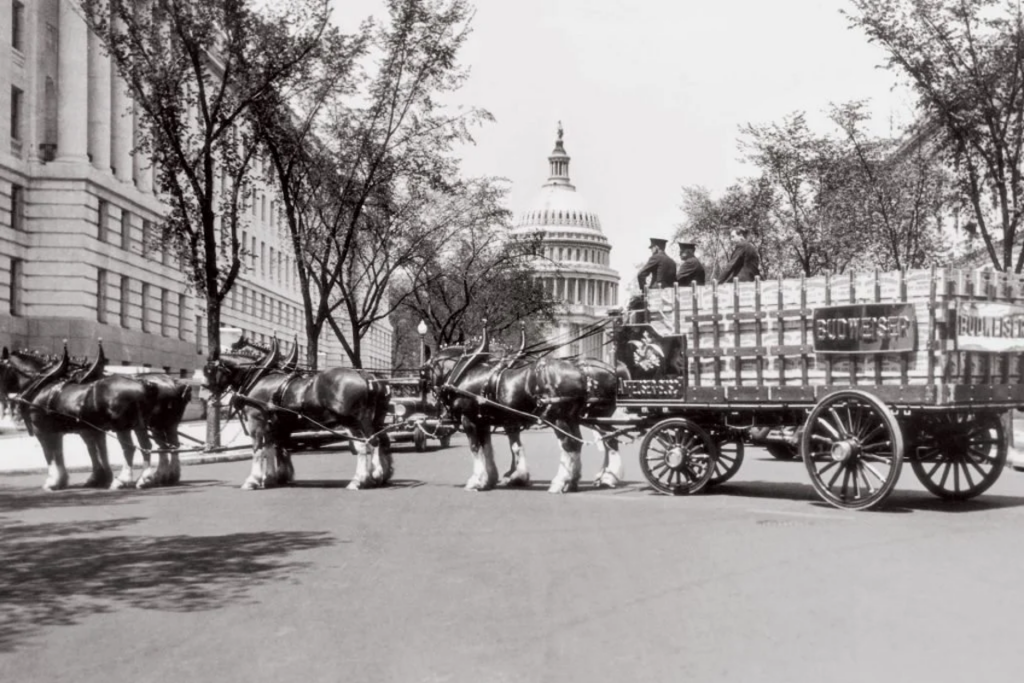 How did the Clydesdale become associated with Budweiser Beer? The Clydesdale was initially bred for farm work in Clydesdale, Scotland more than 300 years ago. While they may appear to be a bit imposing due to their height and size, they are by nature gentle giants.
Their association with Budweiser began in 1933, following the end of Prohibition. August Busch's Sr. two sons, August Jr. and Adolphus III presented him with six Clydesdale hitches suggesting he use one of them to pull a beer wagon to a beer-drinking Irishman named Al Smith, who just happened to be Governor of New York and present him with an ice cold case of Budweiser Beer. Another hitch was sent to tour St. Louis, home of the brewery and other Midwestern cities. Another hitch was sent to New England. Thousands came out to cheer, not only the end of Prohibition but the mighty Clydesdale's.
In 1940 Budweiser began breeding their own Clydesdale's. Along the way they picked up an escort and in 1950 the Dalmatian became their official mascot. Traditionally, Dalmatian's were coach dogs mainly because they got along well with horses. During the days of the horse-driven fire wagons they also became mascots for firefighters. Today the Budweiser Beer Wagon, the Clydesdale's and that handsome Dalmatian are one of the most popular advertising stars of the Super Bowl commercials.