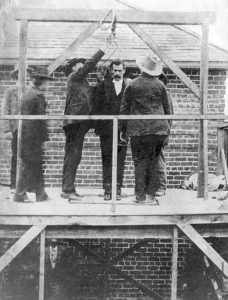 Some of those western outlaws were tough to the end. What does a condemned man say when he was asked if he had any last words? Does he whimper and say, "I was framed!"
The ones we admire the most were those who "died game!" I say this with one caveat. This what is reputed they said but either way it makes a good story
My favorite is the notorious Mexican bandit Augustine Chacon when he was about to be hung in 1902 in Solomonville, Arizona.  He had a lot of admirers and countless pretty senorita's and probably a few senora's to see him off.  On his way to the scaffold he stopped to shake hands with the crowd and perhaps a few hugs and kisses. Finally he waved to his fans, smiled and said, "Too late now. Got to go. Time to hang."
Another remembered for his bravado was Black Jack Ketchum, the only man in to be hanged for train robbery. Handsome Jack told the padre who came to visit, "Have someone play the fiddle when I swing off." When they put the noose around his neck he said, cheerfully, "I'll be in hell boys before you start breakfast."
They dropped the black mask over his head and in a muffled voice quipped, "Let her go."
Joe Casey, when the noose was being placed on his neck, jested, "Very uncomfortable necktie boys."
George Shears took his punishment with a sense of humor. Standing on the scaffold he said, "Boys I'm not used to this business. Do I jump off or slide off."
On a sunny, warm morning in Tombstone on March 8th, 1884, Red Sample, Dan Doud, Bill Delaney, Dan Kelly and Tex Howard were about to hang in Arizona's largest mass hanging. During a robbery the previous December they had shot and killed four citizens including a pregnant woman. The boys waved to friends in the crowd and Sheriff J.W. Ward asked if they had any last words. Doud spoke up, "It's getting pretty hot so you might as well get on with it."
A reply came from Tex Howard, who looked over at his partner in crime and wryly observed, "It's liable to be a whole lot hotter where we're goin."
Crawford Goldsby aka Cherokee Bill was a hard case right up to the end. When asked if he had anything to say he muttered defiantly, "I didn't come here to talk, I came here to hang."
Fleming Parker was a likable horse thief who might have been a folk hero in Yavapai County if he hadn't killed a popular Prescottonian during a jail break. The night before his hanging, he was asked by his old friend, Sheriff George Ruffner, if there was anything, he could bring him. Parker ask the sheriff if a gal named "Flossie" was still working in the red-light district on Granite Creek. Ruffner replied in the affirmative and Parker said he'd sure like to see her one more time.
Ruffner headed over to the district and asked if Flossie if she was game and she replied, "Why not!"
I'd like to believe Parker went over the Great Divide with a smile on his face.
Last but not least was a man known as, "The Gun Twirler." He murdered two men in cold blood and at both trials he got off by claiming he was spinning his smoke wagon and it accidentally discharged.
Vigilantes, upset by the verdicts, stormed the jail, removed him and administered a suspended sentence from a tree limb with a note pinned to his chest that said, "This was no accident."