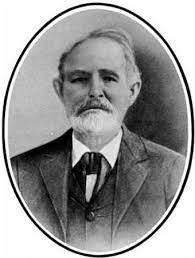 Gold prospector Henry Wickenburg had been frustrated in his attempts to find the yellow metal. He'd missed Captain Joe Walker's expedition up the Hassayampa River in 1863. The Walker Party had struck it rich near the headwaters of the river. He arrived too late to catch the Weaver-Peeples Party that found gold on the Hassayampa at Rich Hill. That one was the richest placer gold strike in Arizona history.
Wickenburg had traveled to Arizona in 1862 with the California Column. Henry was first, last and always a prospector but thus far his luck hadn't been too good but he remained optimistic that all that was about to change.
There are several variations of the story of the discovery of his fabulous mine and one can almost take one's pick of which to believe. It is say that he grabbed a stone to throw at a pesky buzzard that was flying over his head and lickin' his chops when he noticed the stone was unusually heavy and when he hesitated, took a closer look and found it was heavily laden with gold ore. A similar story is told that the critter on the receiving end was his stubborn pack burro. These stories and the others are good fodder for the tourist business today. They even used to amuse Henry. In reality he used the prospector's creed of "dig like a gopher and the eye of an artist."
He just simply located the mine and named it the Vulture because he liked the name. It turned out to be the richest lode gold mine in Arizona history.
The location was several miles west of the Hassayampa River so Henry decided to sell his ore for $15 a ton to the local prospectors and let them transport it to Jack Swilling's arrastra on the Hassayampa for milling. Naturally there was a lot of high-grading or stealing his ore. There is a persistent rumor that Jacob Waltz, the famous "Lost Dutchman," worked at the Vulture at one time and was fired for high-grading Henry's ore. There are some today who believe that the Lost Dutchman mine was really a cache of ore high-graded from the world's most famous lost mine in the Superstition Mountains.
Wickenburg finally sold out for $85,000 and a one-fifth. However, he was swindled out of most of it by the new owners. The Vulture became one of the most productive goldmines in the West. It is known that one vein was 27 to 39 feet wide and went down 350 feet from an outcropping. Before it played out, some $20 million was extracted. Actual numbers are hard to come by because of the large amount of high-grading.
Some say it didn't play out but the gold vein hit a fault and is just waiting for some lucky cuss to find it.