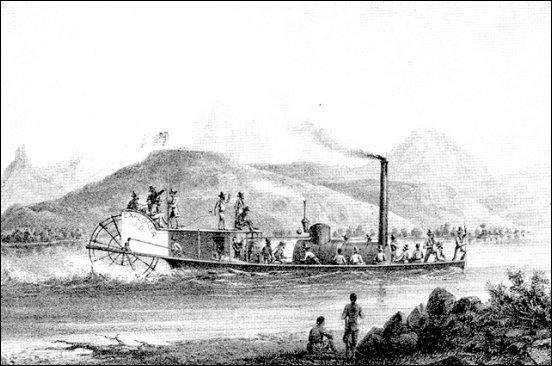 Lieutenant Joseph Christmas Ives graduated from West Point in 1852 and the following year he was assigned to the storied Army Corps of Topographical Engineers, an elite group of West Point Grads whose mission was to survey the vast reaches of the American West.
In 1857, with a possible war with the Mormons in Utah looming, the Army appropriated $75,000 to finance a survey to find out how much of the Colorado River was navigable in order to transport troops and equipment into Utah. A 54-foot iron-hulled sternwheeler was assembled in Philadelphia and named the Explorer. It was tested on the Delaware River where it had poor grades, disassembled and hauled by schooner to San Francisco, then to the mouth of the Colorado. There in gale-force winds Lt. Ives and his crew re-assembled the little paddle-wheeler and launched it by moonlight at high tide on December 30th.
She was the first military craft on the Colorado River. The American flag flapped in the breeze from the observation deck as she churned her way up the river to Yuma. Despite its strange appearance, Ives was proud of his boat, but the expedition's artist, Baldwin Möllhausen, described her as resembling a "water-borne wheelbarrow." Even the local natives, the Yuma and Cocopah, snickered at the weird-looking military craft, dubbing it the, "chiquito boat."
Despite the ridicule, the little "Explorer," managed to plow its way up the Colorado River, past Fort Yuma, all the way to Black Canyon, in the vicinity of today's Hoover Dam, and demonstrate the navigability of the river.
On the way back down the river, Lt. Ives left his ship and struck out to explore the Grand Canyon. With the help of natives he snaked his way into the west end, becoming the first white man to accomplish the feat. Ives wasn't impressed. He made this prophetic claim, "It can be approached, only from the south and after entering it there is nothing to do but leave. Ours has been the first and will doubtless be the last party of whites to visit this profitless locality."