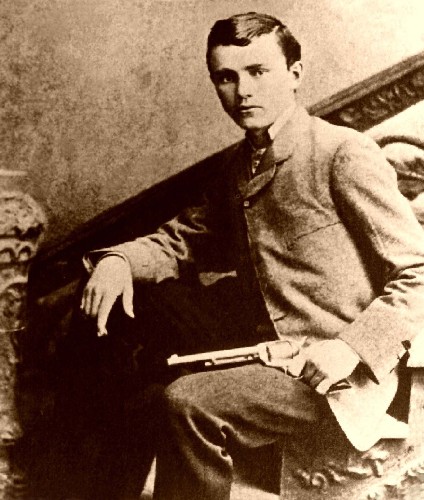 Jesse James was assassinated on April 3rd , 1882 at his home in St. Joseph Missouri by two members of his gang, Bob and Charlie Ford.  There are conflicting stories among his biographers about how many and what model revolvers Jesse was packing that day. This question came in the other day from a True West reader.
"Can tell me about the guns that Jesse had on him just prior to his assassination by the Ford brothers?  All of my readings tell me that Jesse took off his gun belt containing two guns (Type?) and laying it on a bed (couch?) to adjust a picture on a wall while standing on a chair.  One unverifiable source stated that Jesse was wearing a pair of S&W Schofields uap to the time of his murder.  I find this hard to believe since Jesse's choice of weapon was the '73 Peacemaker."
I searched T.J. Sikes, Jesse James: The Last Rebel of the Civil War; Ted Yeatman, Frank and Jesse James: The Story Behind the Legend. In my opinion the best books on Jesse and neither mentioned the make of his gun or guns that day. Both Sikes and Yeatman both quote Jesse, "I guess I will take off my pistols," but no mention of the make and model.
Robertus Love, The Rise and Fall of Jesse James, "He unbuckled his belt in which he carried two .45 caliber revolvers, one a Smith and Wesson and the other a Colt, and laid them on the bed with his coat and vest." Frank Triplett edited by Joseph Snell, The Life, Times and Treacherous death of Jesse James, …" he continued to wear his belt containing one pistol, not two has been asserted." Triplett's book was originally published a month after Jesse's murder in 1882. He relied heavily on Jesse's wife and his mother. This edition was published in 1970.
During this time, it is known Jesse carried cap and ball Colts and Remington's and the occasional cartridge Smith & Wesson, and an occasional Colt Single Action Army.
The day of Jesse's death five handguns were found in the house including a Colt 1851 Navy .36, production date, 1871. A Colt Model 1873 SAA .44-40 made in 1880.
Jesse's mother Zeralda was not above purchasing pistols, authenticating them as Jesse's personal pistol and selling them. She even sold some that were made after Jesse's death. How many of Zeralda Samuels fake firearms are in the hands of collectors today?
I can understand why Yeatman and Stiles avoided naming specific revolvers. The others were all over the map; Jesse had only one gun; Jesse had a Colt and a Smith & Wesson.
I forwarded this to fellow WWHA board member Roy Young and he asked gun collector Kurt House, also a WWHA board member to weigh in: "First, let me say that probably there is no definitive answer to his question, or at least one that can be proven.  However, it is known that both Frank and Jesse favored Smith & Wesson brand pistols, but while Jesse no doubt used Colts after 1873 when the Peacemaker appeared, I don't remember any documented Colt to Jesse, but there may have been one on the 'Guns of Jesse James' board exhibited by Jess Jr.  The best documented sidearm of Jesse James is the Smith & Wesson owned now by ex-NRA Museum Director Jim Supica, author of the definitive work on S&W and many other books & articles, a good friend of mine for many years.  I like Marshall's answer, '…an occasional Colt single action Army…' because in my mind, as well as in that of most advanced collectors I think, only one gun is associated undisputedly to Jesse, and that is the S & W alluded to."