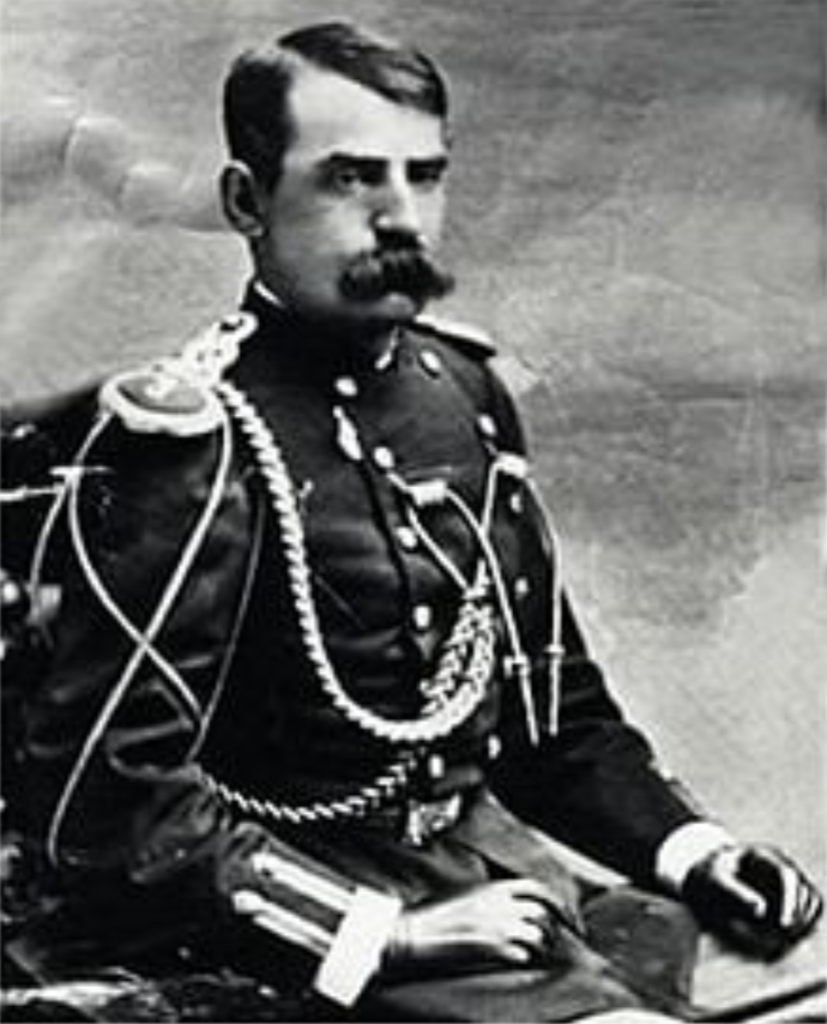 Among the many brave and courageous officers in the Frontier Army during the Apache Wars was Lieutenant Howard Cushing. A member of a family of war heroes, two of his brothers, William and Alonzo gained national prominence for their heroism during the Civil War. The latter was a classmate at West Point of George Armstrong Custer and was killed at the Battle of Gettysburg. Captain John Bourke, who, as a young lieutenant, served with him in F Troop called him "the bravest man I ever saw."
Howard Cushing had fought in the Civil War as well and when that war ended he remained in the Army. From 1868 to 1870 he and his F Troop battled Mescalero and Lipan Apaches in New Mexico. In 1870 Cushing and his troop were sent to Arizona to go after Cochise. Cushing's reputation as a relentless Indian fighter was well-established long before he arrived in Arizona. He had that rare natural quality that made him a leader of hardened men. His troopers would follow him to hell and back. They idolized him and his fellow officers held him in the highest regard. His ability was such that he was kept in the field, constantly pursuing wherever and whenever needed. For more than a year Cushing led countless scouts throughout Apacheria. It was said Cushing and his troop killed more Apache than any other outfit during the war that lasted from 1861 until 1886. Author Paul Andrew Hutton wrote, "The Apaches had come to see him as the face of the enemy."
His luck finally ran out in May, 1871 in the Whetstone Mountains, west of the San Pedro River when his troop was ambushed by an Apache band believed to be under the leadership of the notorious leader, Juh (Whoa), of the Nednhi, who had a reputation as the wildest and most intractable of the Chiricahua bands. Even the other Chiricahua bands thought them to be hellions. Juh spent most of his time in the Sierra Madre but often came north of the border to join with Cochise and his Choconen band.
Juh was known for saying he desired to kill the famous lieutenant. The battle was said to be fierce and reduced to hand to hand contact. The Apache had overwhelming numbers and Cushing took a gunshot wound in the chest. A lieutenant riding next to him was shot in the head. He called out to Sgt. John Mott, "Sergeant take me out, I've been killed."
Mott charged out in withering gunfire, grabbed his commander and dragged him to cover. Another Apache rifle hit Cushing in the head. Mott's bravery would earn him the Medal of Honor.
Mott would later say, "It seemed like every rock and bush became an Indian."
Sgt. Mott was able to get the rest of the troop out safely and following an overnight march reached Camp Crittenden.
Lieutenant Bourke and a burial party rode out the next day and recovered Cushing's body and the other dead troopers. For many years a street was named in Tucson for the gallant soldier some bureaucrat changed Cushing Street to 14th Street.