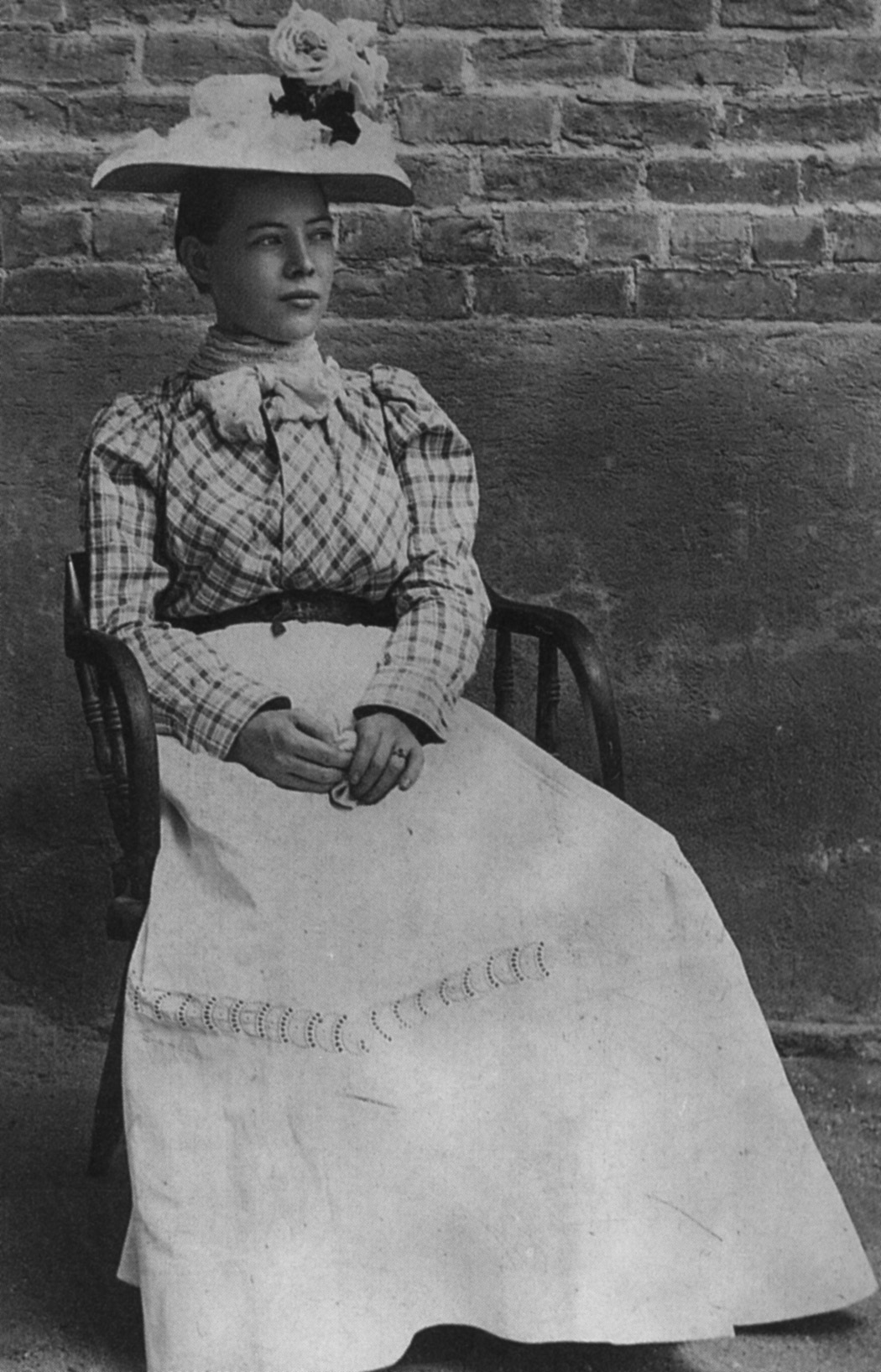 For most of her life Pearl Hart lived in dismal obscurity. She got her chance for fifteen minutes of fame following a bungled stagecoach robbery on May 29th, 1899. An adoring eastern press dubbed her the "Girl Bandit," and chastised the callused Arizona judicial system for putting such a pretty young lady behind bars in the notorious Yuma Territorial Prison.
Not much is known about her early years, she was born Pearl Taylor of French descent in Lindsay, Ontario, Canada. It was said she came from a respectable, well-to-do family but things started going downhill at age seventeen when she married a gambler named Fred Hart.
They traveled to Chicago in 1893 where Fred took a job as a carnival barker at the Chicago Exposition and she worked at odd jobs. At the exposition she got a chance to see Annie Oakley perform and became enthralled at the Wild West show, something that likely inspired her to dump her worthless husband and head west.
In Trinidad, Colorado she took a job as a saloon singer but had to return to her family when she learned she was expecting a baby. She gave birth to a son, left him with her family and headed for Phoenix but soon found that life in the west wasn't as glamorous as those Wild West shows she'd seen at the exposition.
Sometime in 1895 her shiftless husband Fred showed up in Phoenix begging her to take him back. For a time, things were good between them until they began living it up in the saloons along Washington Street. It was there Pearl got into drugs. A second child, a girl, was born and their domestic problems resumed. Fred became bored with domestic life. An argument between the two got out of hand and he beat her up then left town.
One version says he joined Teddy Roosevelt's Rough Riders and went to Cuba, but his name doesn't show up on the roster.
Pearl returned to her family, left the baby with her mother and headed west again.
Pearl was five feet two inches tall, weighed less than a hundred pounds, was reasonably intelligent and was considered quite attractive. She took up residence in various Arizona towns like Globe, Phoenix, Tucson and Tombstone, sometimes working as a prostitute and others as a waitress or cook. She was working in a café in Mammoth when she took up with a miner named Joe Boot.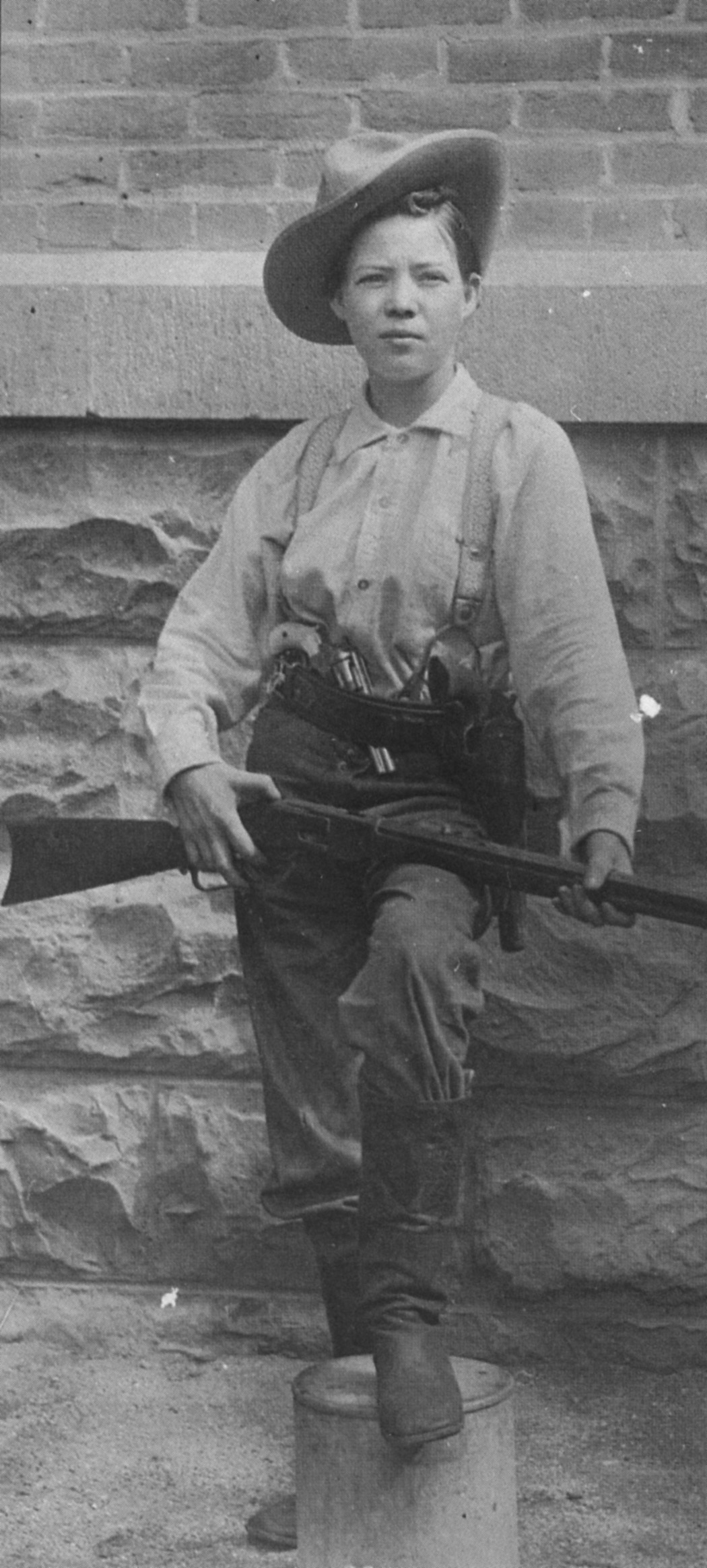 Boot was a combination of miner, gambler and con man. A letter came from home saying her mother was ill and needed money. Joe decided the couple could solve their money problems by robbing a stagecoach.
On the evening of May 29th, 1899, Pearl, dressed in male attire and her hair pulled up under her hat, and Joe held up the stage near Kane Springs on the road from Florence to Globe. Their take was 431 dollars and some change. She also pilfered stage driver Henry Bacon's Colt .45. She generously gave the three passengers and Henry each a dollar for the evening meal. Then she and Joe, headed up the San Pedro River towards Benson. They had forgotten to plan their getaway and got lost. They were found and arrested on June 3rd by Pinal County Sheriff Bill Truman and locked up in the Florence Jail.
The press was fascinated by the petite, pretty, 28-year old bandit. She fired off a fiery letter to the prosecutor declaring "I shall not consent to be tried under a law which my sex had no voice in making."
She became an instant darling of the women's suffragette movement. Cosmopolitan Magazine wrote a story on her bold stagecoach robbery. Newspapers, especially the Hearst press made turned her into a national celebrity.
During her trial Pearl changed into a pretty dress and told the jury that she had robbed the stage to get enough money to visit her sick mother back East. She batted her eyes, lifting her skirt, revealing a well-shaped ankle and flirted shamelessly with the all-male jury. They found her not guilty. Judge Fletcher Doan was outraged and ordered her to be tried again, this time for stealing Henry Bacon's pistol. Judge Doan might have also charged her with tampering with the U.S. Male. The judge gave her five years in the Yuma Territorial Prison.
Joe Boot didn't fare as well. The jury found him guilty and him thirty years on the same charge. He hung around for a year or so then escaped a was never caught.
Pearl briefly enjoyed her celebrity status at the prison. Visitors and reporters were allowed to visit. She was paroled on December 15, 1902 and immediately headed east for Kansas City where she launched her show business career as the "Girl Bandit."
Territorial Governor Alexander Brodie refused to discuss the reason for her early release, but a story circulated that Pearl had informed the warden she was pregnant. According to Arizona legend, at the time the only two men who'd been alone with Pearl were the warden and the territorial governor. After a series of telegrams between the capitol and the prison it was decided to release her immediately. Pearl wasn't pregnant but she wasn't dumb either and cleverly went on her way, a free woman.
For a brief time she toured the East re-enacting her role on stage as the "Girl Bandit," but the plot was thin and her career as an actress was brief. It turned out she was no better at acting than planning a getaway from a stagecoach robbery Fame was fleeting and soon Pearl soon drifted into anonymity
Nobody knows for certain how Pearl spent her later years but there is strong evidence she became respectable, married a cow rancher named Cal Bywater in the Dripping Springs Mountains south of Globe and lived out her life as an honest cowgirl.
Some accounts credit her with holding up the last stagecoach and also being the only woman to rob a stage. However, neither account is true. The last stage robbery was in Nevada in 1916 and a woman named Jane Kirkham was killed while robbing a stagecoach near Leadville, Colorado in 1879.