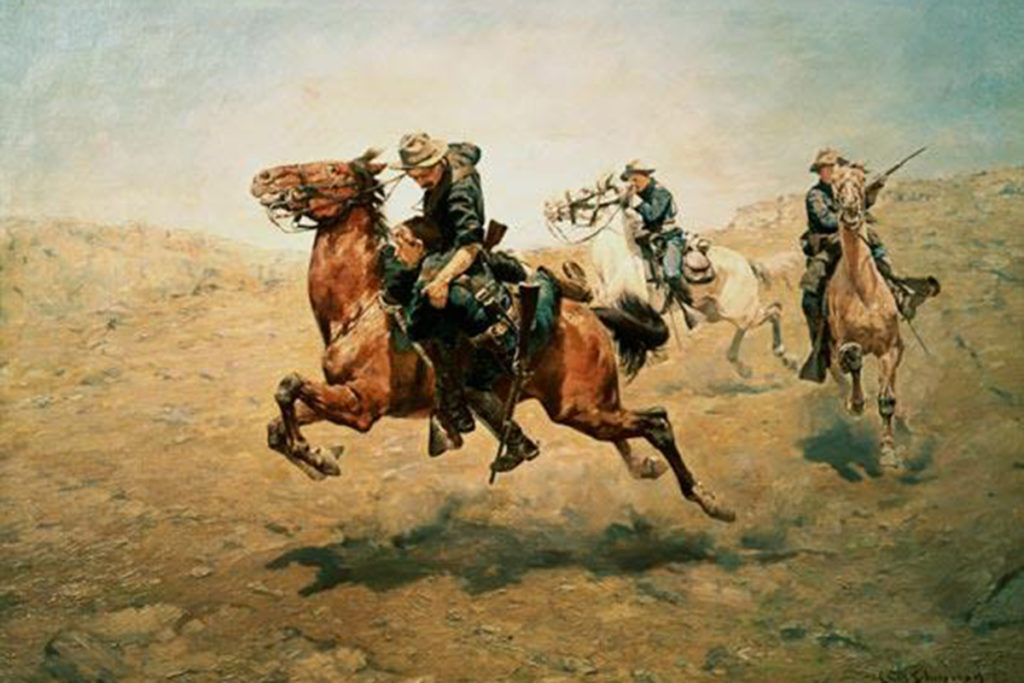 During the Battle at Apache Pass the Apache warriors had built a breast work of rocks on two hills just east of the Butterfield Stage Station, giving them a commanding view of Apache Spring in the heart of Apache Pass. They had the advantage of firing down on the soldiers from a range of some 400 feet. Roberts brought his two 12-pound howitzers up and placed them in a dry wash. He opened fire sending the Apache scurrying for cover. Roberts had won round one of the battle. The thirsty troopers filled their canteens and drank heartily of the fresh spring water.
Later that evening Roberts dispatched six cavalrymen to Captain John Cremony's supply train and see to its protection. Meanwhile Cremony had advanced to and about fifteen miles east of the entrance to Apache Pass. As the six cavalrymen rode out into the Sulphur Springs Valley to the west of the pass, they were jumped by a large band of well-armed Apache. In the opening fire one soldier was shot in the arm and two horses were wounded. Private John Teal fell behind and found himself cut off from his comrades. Realizing they could be of no help to Teal, the others rode on and managed to reach the safety of the supply train. Meanwhile, Teal had turned his horse southward, heading down the valley in hopes of outdistancing his pursuers. It was to no avail. The warriors closed in. A well-placed shot dropped his horse. Teal jumped free and secured a position behind the dying animal. His only chance was to keep them at a safe distance until darkness approached. The rapid firing of his breech-loading carbine confused the warriors, who up to now had never faced such a weapon. They circled around cautiously. The standoff lasted for about an hour when one unusually large Apache rode up close. Teal took careful aim and fired, sending a bullet into the huge midsection of the warrior. Suddenly, the Apache lost interest in Teal and rushed to the aid of their fallen comrade. They picked him up and rode quickly away. Wasting no time, Teal took his saddle and bridle, slung them over his shoulder and began an 8-mile hike to the supply train. He arrived late that night, much to the surprise of his comrades who had given him up for dead, or worse.
It was later learned that the warrior Pvt. Teal had shot was none other than the great Apache Chief Mangas Colorados.
The chief's comrades rushed him to the Mexican town of Janos in northern Chihuahua. They rounded up the town doctor and gave him an ultimatum; Mangas lives and Janos lives! Mangas dies and Janos dies!
The poor doctor was nervous as a long-tailed tomcat in a room full of rocking chairs but he pulled the old chief through. The Apache, true to their word, rode away.