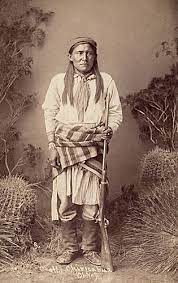 By September 1886, Naiche's beleaguered band of Chiricahua Apache numbered only thirty-nine. They had been running as much of 80 miles a day trying to evade the persistent Apache scouts and several hundred troops.
Two scouts, Martine and Kayitah along with Lt. Charles Gatewood were able to persuade Naiche, son of Cochise and the heredity chief of the Chiricahua to meet with General Nelson Miles at Skeleton Canyon. Geronimo was also a key member of the band. After they learned that most of the other Chiricahua had already been shipped by rail to Florida, they were ready to call it quits.
After the Apache surrender at Skeleton Canyon, on September 4th, 1886, the Apache POWs were first sent to Fort Marion, Florida. The climate proved to be unhealthy so in 1887-1888 they were re-located to Mt. Vernon Barracks, Alabama. By October 1894 half were dead due to sickness. In 1895 they were moved to Ft. Sill, Oklahoma.
February 17th, 1909, Geronimo, died of pneumonia at the age of 79 at Fort Sill.
The Chiricahua would remain POWs until 1913. Upon release, after 27 years of captivity, all 257 (119 females and 138 males) were given a choice of moving to the Mescalero Reservation at Tularosa, N.M. or remaining at Fort Sill.
Sixty-seven chose to remain in Oklahoma while 190 including Naiche and Chatto chose to move to New Mexico. Naiche died there in 1919. Chatto, one of the loyal scouts who was imprisoned remained an outcast among the Chiricahua until 1934 when he was killed in an automobile accident.
President Grover Cleveland and Army Chief of Staff, General Phil Sheridan had no further use for the scouts. General Nelson Miles had inherited the scouts when he replaced General George Crook and despite the fact, they outperformed the white troops, never gave them the credit they deserved. Even the Chiricahua Apache scouts, including Martine and Kayitah the men who led Lt. Charles Gatewood into the Apache lair and arranged the final surrender, were shipped to Florida along with the hostiles as POWs.