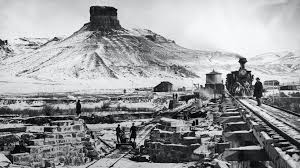 The men involved in Arizona's last train robbery obviously watched too many of those old-time Western pictures. The robbery in occurred on May 15th, 1922 when three men tried to hold up the Southern Pacific Golden State at Jaynes Station nine miles west of Tucson.  A red fuzee and several track torpedoes signaling an emergency ahead caused the engineer to bring his train to a halt.
Sometime around midnight, three masked men climbed aboard the engine and ordered the engineer to separate the mail and express cars from the rest of the train. After going down the tracks a short distance they marched the fireman and engineer down to the express car and order the messenger, Harry Stewart, to open the door. Stewart didn't respond so one of the robbers walked over to an automobile that was parked on a parallel road alongside the tracks and returned with a package.
Unbeknown to the bandits, Stewart was watching them from inside the express car. He picked just the right moment and blasted him with his ten-gauge shotgun. When he went down the others ran to the Nash touring getaway car and sped off.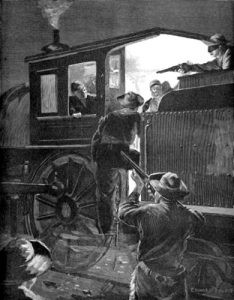 A few days  later, one of the train robbers F.W. Jirou turned state's evidence and squealed on his pals. The dead man, Tom Dugat, turned out to be the owner of a nearby goat ranch and two of the would-be train robbers were the owner of a Tucson clothing store, George Winkler and his 17-yearold son, George Jr. They were tried and convicted. George Sr. received a ten-year sentence as a guest at the Arizona State Prison at Florence. George Jr. received a suspended sentence, not the kind that suspends one from the limb of a cottonwood tree, but the other one. The driver of the getaway was one of the goat farmer's assistants named Santiago Valdez car fled to Mexico and was never brought to trial.
The attempted train robbery at Jaynes station was memorable as a textbook case of how not to rob a train.
The Southern Pacific Railroad rewarded shotgun messenger Harry Stewart with an engraved watch, a check for $1,000 and a letter of appreciation.  Harry, proved that crime does indeed, does pay…..for the good guys.