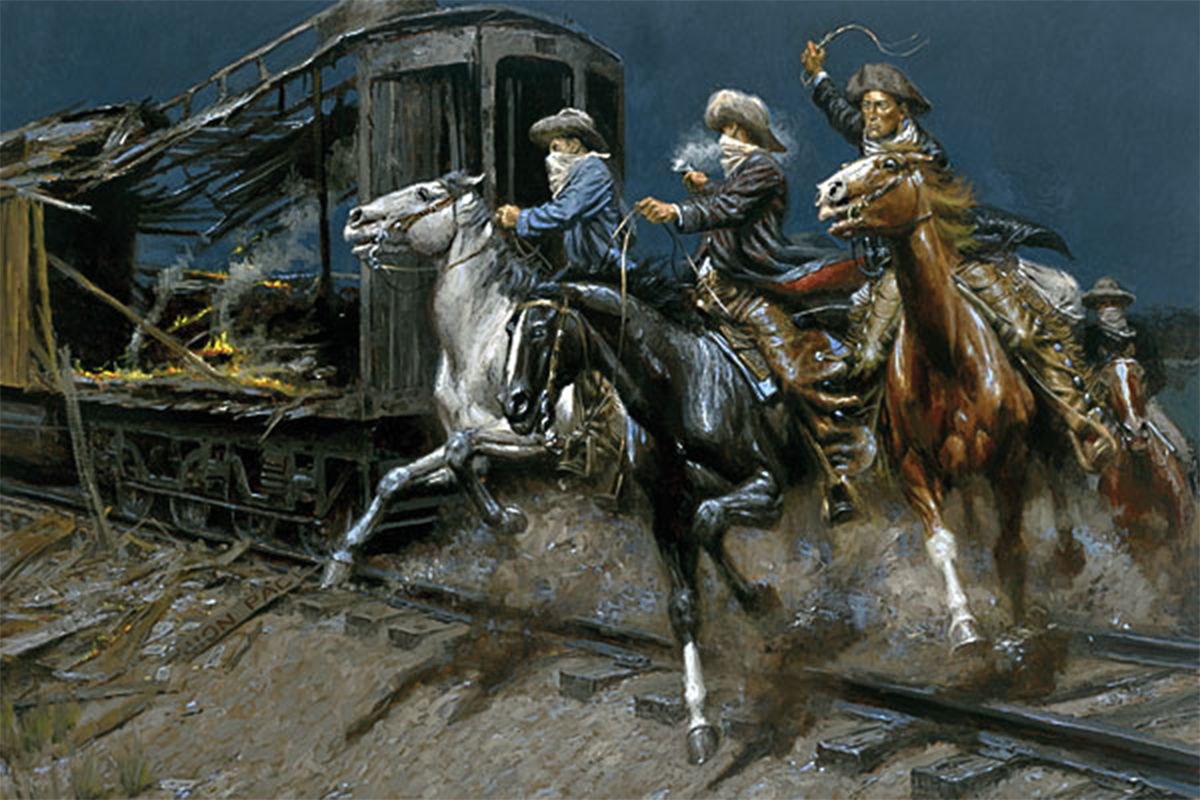 Who were the outlaws who robbed the train at Wilcox, Wyoming in June 2nd, 1899? That depends on who you ask. One version of the story goes, Harvey Logan, aka Kid Curry, the Sundance Kid, and Flat Nose George Currie decided to rob the Union Pacific at the remote station at Wilcox. I ran  this by author-historian Dan Buck and he speaks from experience, "I am from harsh experience, not adamant about who was in on which Old West holdup, especially when all we have are eyewitness accounts, police murmurs, or newspaper reports. all in their own way unreliable.  The best evidence is: Killed at the scene; second best, arrested later for passing bank notes from the robbery. In any event, the best evidence for Harvey Logan is that his brother and cousin ended up in possession of Wilcox banknotes.  Beyond that, it's speculative. Make that, complicated and speculative." Most say there were three train robbers at Wilcox but others say, six including, Lonnie Logan, Bill Kilpatrick and Will Carver.
Even the noted authors come up with different versions, that's because there's no provenance one way or another. There's only provenance the great train robber, Butch Cassidy, robbed just one train, Tipton, Wyoming.
On June 2nd, 1899 the sensational robbery that included blowing up a bridge and the messenger car netted them $50,000 and some unsigned bank notes. Within hours following the robbery getting away with a hundred Pinkerton agents were combing the area looking for members of the Wild Bunch. Detectives were tracking the serial numbers on the banknotes taken in the robbery. The gang split up with Harvey, Sundance, and Flat Nose Currie heading for Hole in the Wall.
The Redford-Newman film has Butch Cassidy at the Wilcox train robbery, but his name was added to the list of train robbers at Wilcox after he became famous.  According to authors-historians Dan Buck and Anne Meadows, seven train robberies were committed by various members of the gang. Butch was recognized at only one, Tipton.
On June 6th, a posse, led by sheriff Josiah Hazen and 14 men and using bloodhounds, caught up with them at Castle Creek Wyoming. In the ensuing gunfight Hazen was killed. The posse backed off and the three escaped on foot.  The first to go down was Kid Curry's brother, Lonnie Logan, who had exchanged some of the stolen money at a bank in Montana. Detectives tracked Lonnie and his cousin, Bob Lee to Cripple Creek, Colorado. Lonnie got away but Bob was captured went to trial, found guilty and sentenced to ten years at the state pen at Rawlings.
They caught up with Lonnie at the Lee's farm and when he tried to run they shot him dead.
Harvey was spotted in St, Johns, Arizona in March 1900. A posse went in pursuit and Logan killed two of them. He and Will Carver decided to head for Alma, New Mexico. They were spotted near the San Pedro River by George Scarborough and Walt Jenkins but on April 5th the two rode into an ambush. Scarborough was killed and Jenkins, wounded.
On April 17th Flat Nose George Currie was shot and killed by sheriff Jesse Tyler of Grand County, Utah. Logan considered Currie one of his best friends, went looking for Tyler and killed him and deputy Sam Jenkins.
Donna Ernst writes in her biography of Harvey Logan there were five killings in two months all blamed on Logan however, in the newspapers of the day the name of a cowboy named Tom Capehart appears. It has been suggested that Capehart was an alias used by Logan but there was a real Texas cowboy by that name who rode with members of the Wild Bunch.
Like Dan Buck says, "it's speculative and complicated."