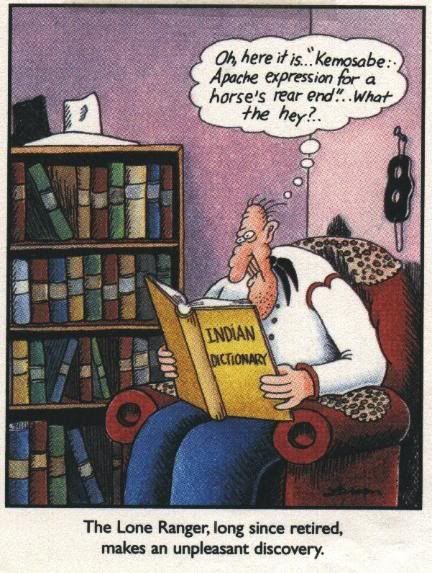 Many folks have speculated over what Tonto meant when said "Kemosabe" when addressing the masked man in the Lone Ranger  comic books and on radio and television. Some are not printable.
One version says it's a Yavapai Indian word Kinasabeh or Kimmaseba which means "One who is white."
The answer lies with Jim Jewell, who directed "The Lone Ranger" until 1938. Jewell said he'd lifted the term from the name of a boys' camp at Mullet Lake just south of Mackinac, Michigan called Kamp Kee-Mo Sah-Bee. The camp had been established in 1911 by Jewell's father-in-law, Charles Yeager, and operated until about 1940. Translation of kee-mo sah-bee, according to Jewell was "trusty scout."
Leave it to cartoonist, Gary Larson, in one of his great Far Side cartoons, to illustrate what many of us already believed Kemosabe meant.