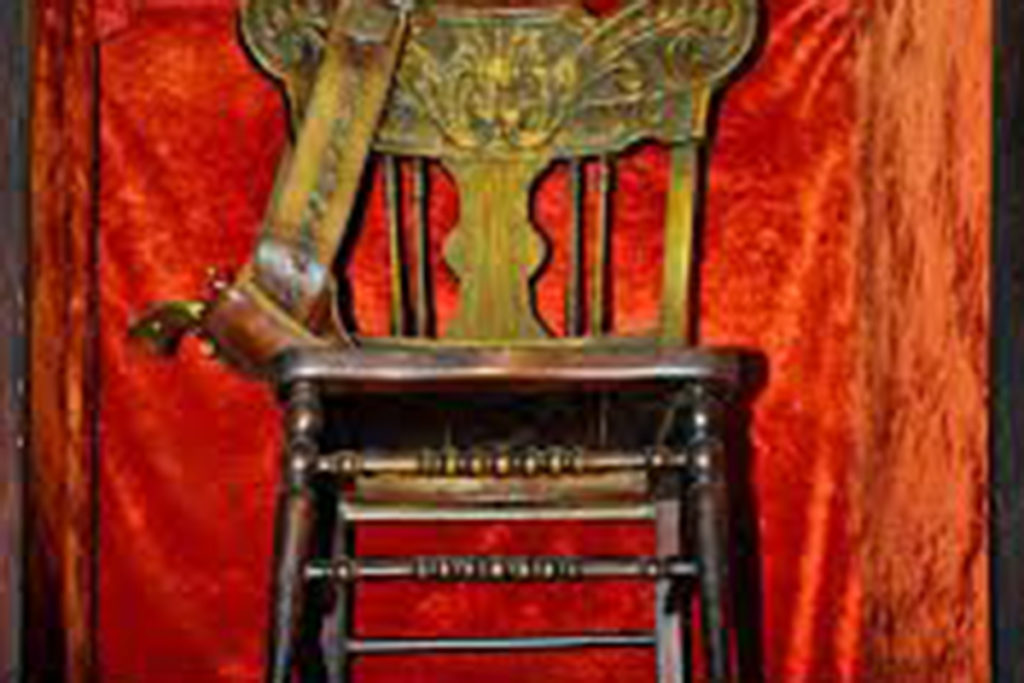 Not long ago I received a question from a True West reader asking about Wild Bill Hickok's death chair. He wondered if the chair hanging above the door of the Saloon #10 on Deadwood's Main Street. He found it hard to believe it was the actual chair since a fire destroyed practically the entire town in 1879, three years after Hickok was shot while sitting at a card table.
I explained the saloon where Hickok was killed by Jack McCall was originally named Nuttal and Mann's Saloon and was located at 624 Main Street. Today's saloon bearing the same name is located at 657 Main St. The Death Chair on display isn't the real Death Chair, just one that resembles it. The real one isn't on display. One has to pay to see that one.
Most of what was authentic in Deadwood went up in smoke at the great 1879 fire that leveled the town. What might have escaped the "Big Fire," burned in 1894, or 1948, 1951, 1959 and 1987. Deadwood had quite a few "Hot Times in the Old Town Tonight."
Recently, I received a letter from David Wolff, Professor Emeritus at Black Hills State University who wrote: Your comment that the original chair was destroyed is undoubtedly correct, whether in the fire or not, no one knows. But does the fill-in resemble it? I really doubt it. Sam Young, a bartender and witness to the shooting, wrote: Wild Bill pulled "out the stool with his foot, from under the table, sitting down on it." (Hard Knocks, 1870 p. 220) As Young wrote, Bill was seated on a stool. 
"Another source tells of August 1876 Deadwood having few chairs with bars/saloons only having stools. So, apparently there never was a death 'chair.' 
"In fact, many years ago the daughter of the owner of the modern Saloon #10 told me that she went with her father when he stopped at a second hand store, picked out the chair, drove to a dump where he shot a bullet through the back, and brought it to the bar. At one time, the back of the chair was even embellished with a splatter of red paint. Such fun. Of course, the "chair" is now iconic in Deadwood.
"As you know, places like Deadwood are surrounded in lies, legends, and half-truths. Over the years, I have tried to correct some of the misinformation, but many people stubbornly stick to the stories they either read in Wikipedia or heard a poorly informed tour guide tell. Luckily, Deadwood's Preservation Office likes to find the truth, and working with those folks has been enjoyable. 
"If you get a Deadwood question that you wish to get a second opinion on, please don't hesitate to ask. The Miller project I mentioned to you yesterday provides a fairly in-depth look at my favorite frontier town from 1876-1890. My friend Nancy Koupal will be releasing it through South Dakota Historical Society Press somewhere between 6 and 12 months."
I decided to write author Jeff Broome, another expert on Hickok and he adds, I do have a chapter in the book on the Kile/Hickok brawl, and note that Harry (Sam) Young falsely shared he was an eyewitness to that 1870 brawl in his Hard Knocks book. But he was an eyewitness to Hickok's murder, and I, like Professor Woolff who emailed you and would defer to what Young said about the chair. I think that is correct, and my guess is Joe Rosa would confirm that if he were with us still. Heck, Joe could have told us the underwear Hickok wore that day."
When the legend becomes fact, print the legend. P.T. Barnum would have loved this one.