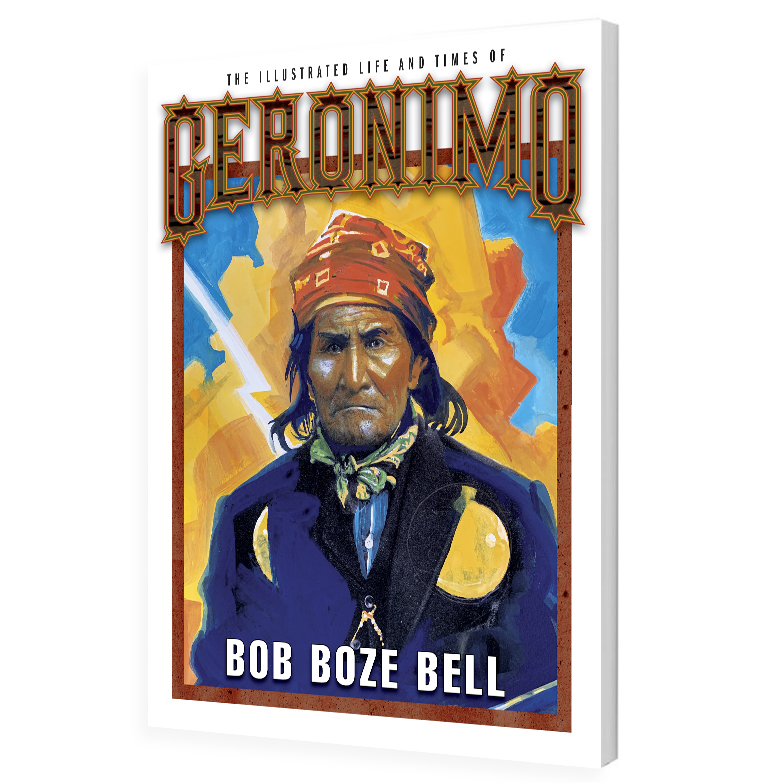 Get ready for an in depth look at the most famous Indian in the world and how he got there. Bob Boze Bell's controversial book on "The Illustrated Life & Times of Geronimo" lays out the long and bloody path of Goyathlay (He Who Yawns) from warrior to celebrity to legend. With hundreds—yes hundreds!—of never before seen images, great maps and top notch scholarship, this is the book you need if you want to know the truth about Geronimo.
Here's what some have to say about the book:
"Fasten your seat belt for this one! Bell's trade-mark blend of superb artwork, authoritative research, and fast-paced prose–always accompanied by a wicked sense of humor–makes this another masterful, must-have Boze Western book." -Paul Andrew Hutton, Distinguished Professor of History, University of New Mexico

"Bob Boze Bell is rightly celebrated for his historical artwork and for his narrative contributions to Western American history. Geronimo is an ideal subject for this combination, and Bob does him fill justice–in part, I suspect, because he probably got most of his information from my biography of Geronimo." -Robert M. Utley, aka Old Bison

"Many have gone in pursuit of Geronimo, but seldom has anyone demonstrated such zeal and tenacity in the chase as Bob Boze Bell." -Towana Spivey, Native American Historian, Archeologist & Curator

"Dig in! This is the good stuff." -Billy F. Gibbons, ZZ Top

"Always digging deeper, and questioning the standard tale, BBB creates a colorful mosaic about a controversial leader whose flaws were insurmountable but whose legacy affected the entire Southwest and its people." -Lynda Sánchez, Author, Historian, Educator

"I hope he explains the paratroopers." -Thom Ross, Artist
Purchase "The Illustrated Life & Times of Geronimo" now at the True West Store.
Save the Date for our next Facebook Live on February 24th at 5:30pm MST where BBB will discuss Geronimo and what you can find inside "The Illustrated Life & Times of Geronimo."