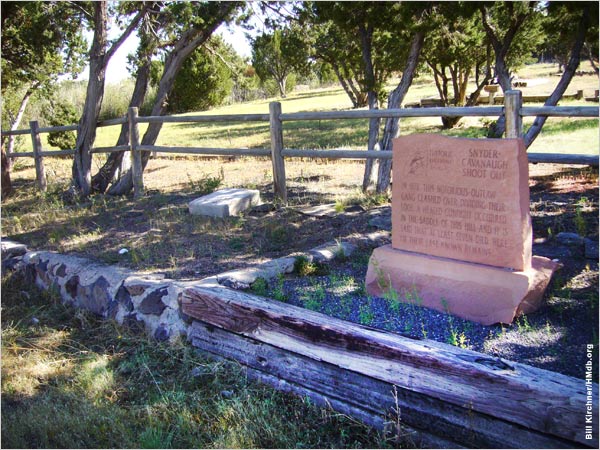 America's wild and wooly West is marked by reminders of its legendary, lawless frontier days. Apache County (Yavapai County) in the Arizona Territory of the late 1800s doesn't get a lot of attention but it had more than its share of gunmen and horse thieves. Many of the refugees from the rustler war in Cochise County, including Ike and Phin Clanton made their way to that remote part of Arizona. In 1877, Bill Caveness, who also went by the name Snyder, led a gang that plagued the area along the Little Colorado River, preying on miners, ranchers and other settlers, until the outlaws started killing one another.
In October, 1877, the gang came to this spot near the town of Eagar after robbing a German of $12,000 in gold and killing him. But when the robbers argued over how to divide the loot, the argument turned into a gunfight and as many as seven men died.
The rest of the gang rode thirty miles north to the town of St. Johns, where residents had armed themselves and killed more members of the Cavanaugh/Snyder gang (sometimes known as the Blanton gang.) The survivors escaped south to Springerville, only to have more lynched or gunned down by armed residents there.
That was pretty much the last hurrah for Bill Caveness-Snyder. C.E. Cooley, famous scout for General George Crook was Deputy U.S. Marshal at Fort Apache. He rounded up a posse of soldiers, this was before the Posse Comitatus Act 1878, (it became effective June 18th, 1878) and arrested Caveness along with a man named Overstreet and on November 7th, 1877 and turned them over to Yavapai County Deputy Sheriff, Bill Milligan. Afterwards, according to a newspaper account, "Judge Lynch took them and cut them to pieces" at today's Becker Lake in Springerville.
At the time Springerville was still in Yavapai County, (Apache County was est. February 24th, 1879) and an article in the Prescott Daily Miner, tells the story. "as their offense was a territorial one, he turned them over to William Milligan, deputy sheriff, to bring them to Prescott to jail. After Cooley had left Springerville with the soldiers, a mob arose and took the prisoners from Milligan, and, in the language of the telegram, disposed of them according to frontier law, which we presume means that they hung them. 
This disposes of the entire gang of outlaws that have infested that county for several months, maintaining a reign of terror over the people. Some time ago, two were killed in a fight among themselves: afterwards, another, known as "Pete" (Blanton) killed two citizens who were attempting to arrest him, and was himself killed in a house where he had taken refuse (sic), the pursuing party being obliged to remove a portion of the roof in attempting to arrest him. He was shot and killed from the top of the house.
E. COOLEY, ONE OF THE MEN WHO DID MUCH TO BRING the White Mountain Apaches under subjection, and now a resident of Show Lou (sic) 28 miles north of Camp Apache, has been doing some excellent work in the way of capturing outlaws for which he should receive the thanks of every law abiding citizen in th eastern portion of our territory. Five (Actually nine) of these desperadoes have recently been killed, which, it is thought, constituted the whole band."