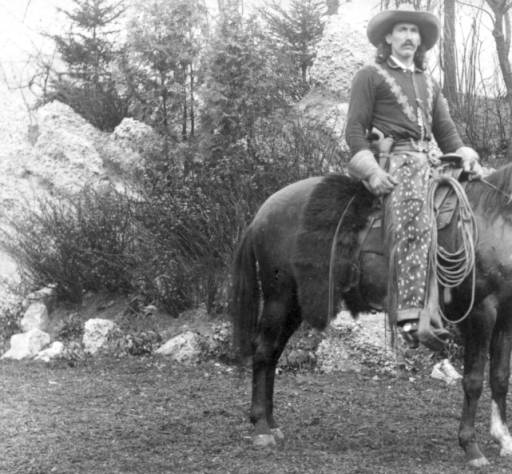 Was Roy Rogers the original 'King of the Cowboys" or was it someone else?
The first and original King of the Cowboys was a Texas cowboy named Buck Taylor. He was born William Levi Taylor in November, 1857 in Fredericksburg, Texas. His father, a Texas Confederate cavalryman, killed during the Civil War. At 14 young Buck became a cowboy and soon he could ride and rope with the best of them.  Around 1880 he headed north and hired out at Bill Cody's ranch in Nebraska. When Cody organized his Wild West show he realized something important was not being represented in the show—the American cowboy. He groomed Buck for the job, wrote a glorious biography on him and presented him to the audience. He was an instant hit and in 1887, a dime novel, "Buck Taylor, King of the Cowboys" appeared and Buck became a national hero. And the cowboy became America's icon. That book was followed by several others.
Buck broke his leg during a performance in London in 1887 and the generous Cody kept him on while he recovered. Later, he bought a ranch in the Sweetwater valley of Wyoming. In 1892, he superintended a cowboy tournament (rodeo) and Wild West show at Denver. He organized his own Wild West show afterwards but it failed in 1894. He spent his last years in Pennsylvania and died at Downingtown in 1924. Biographical information on him is scarce but the best sources seem to be found in biographies of Buffalo Bill Cody.