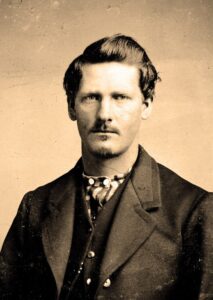 True West readers often ask what make and model of handguns Wyatt Earp owned and used during the gunfight near the OK Corral. Second, exactly the style of deputy marshal badge that he would have worn.
According to Earp expert Jeff Morey, weapons belonging to the Earp's and Doc Holiday were not identified at the time of the gunfight. That means any particular collector's or museum display weapon claiming to be used by them really can't be validated. There are several phony guns which have been touted as being "authentic" over the years.  Unfortunately, making loud claims doesn't make it so.
A few believe he carried a Smith and Wesson. More likely it was a Colt .45 Peacemaker. I'm sure he had other handguns during his life but there is no provenance on any of the claims of an Earp pistol no matter what the museums claim.
As far as badges goes, I've discussed this with Earp historian, Casey Tefertiller and nobody knows for certain whether or not Wyatt was wearing a badge at the "Street Fight." We know both Wyatt and Morgan had been deputized by City Marshal Virgil for some time but there were no photos taken that day. The only photo of Wyatt wearing a badge was taken at Dodge City. Another thing, Casey says, "No one has ever found a Tombstone badge from that era."
So there you have it. I don't think any of those men had any idea that people like you and me would be dissecting all this stuff nearly 150 years later.