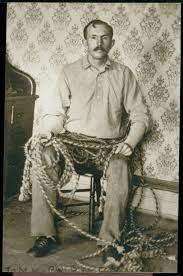 It's difficult to say for certain. During the Wyoming cattle wars, Tom Horn was a hired gun, hired by the large ranchers. The cattlemen's associations all over the West were hiring gunmen to deal with real and alleged rustlers. I'm sure you're aware of the notorious Johnson County War a few years earlier. I believe Horn probably didn't intend to shoot and kill young Willie Nickell. The kid was wearing his father's coat and his killer mistook him for his father, Kels Nickell. Kels had other enemies. Whomever did it, Horn took the rap.
Joe LeFor's interrogation was a sham and it would have been tossed out of court today.
Horn was the product of the brutal Apache Campaign and had seen killing and violence up close and personal. He was also a star rodeo cowboy in Arizona and was a straight-up guy when he wasn't drinking. In short, he was a good man to ride the river with when he was sober. He was also a good man to have on your side in a gunfight.
He lived by the code of silence and didn't rat on his employers as many would have done. He faced the gallows the same fearless way he lived.
For more information on Tom Horn, I suggest Larry Ball's, Tom Horn: The Life and the Legend.