Author and Historian Paul Andrew Hutton to receive 2021 True Westerner Award in Facebook Live Ceremony
True West Magazine will present author, writer, university professor, and historian, Paul Andrew Hutton, with its True Western Award for 2021, in a Facebook Live ceremony, Friday, April 2nd starting at 5:30 PM Pacific Time. Join the event on Facebook at https://fb.me/e/20Hwja9Zn or on YouTube at https://youtu.be/NdSzerLkE9Q
Bob Boze Bell, executive editor of True West, will present Hutton the bronze True Westerner sculpture that is handed out annually in recognition of an individual for his contribution to and preservation of America's Western heritage.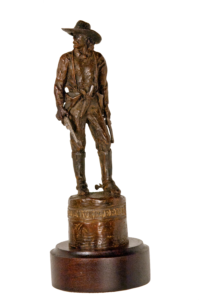 Hutton was chosen because steadfast dedication to American history and his contributions as an award-winning Western history writer for magazines, film, and television, and his more than 300 appearances as an on-air commentator in episodic documentary television.
During an academic and professional writing and editing career spanning 47 years, Hutton has earned numerous awards, including six Western Writers of America Spur Awards, the most recent in 2017 for Best Nonfiction Book, The Apache Wars, and six Western Heritage Awards from the National Cowboy Hall of Fame.
Hutton has been a member of the University of New Mexico history department since 1984, where in 2006, he was elevated to the rank of Distinguished Professor of History.
Hutton is currently writing The Undiscovered Country, which he describes as his "dream book—a history of the American frontier movement from the French and Indian War to Wounded Knee."
"It is a great honor to receive this year's True Westerner Award, not only because of the distinguished recipients who have preceded me," says Hutton, "but also because of my long connection with this fabulous magazine."
The inaugural "True Westerner" award went to Oscar-winning screenwriters Larry McMurtry and Diana Ossana at the Tucson Festival of Books in March 2013. Since the first award, recipients have included Forrest Fenn (2014), Marshall Trimble, (2015), Abe Hayes (2016), Brian Lebel (2017), Robert G. McCubbin (2018), John Fusco (2019), and Mike Fox (2020).
True West magazine is in its 68th year of leading the way in presenting the true stories of Old West adventure, history, culture and preservation.
Visit TWMag.com for more information.
Join the Facebook Event: https://fb.me/e/20Hwja9Zn
Join the event on YouTube: https://youtu.be/NdSzerLkE9Q
Buy the January 2021 Issue with the True Westerner Award Here: https://store.truewestmagazine.com/tw-home-page/collectible-issues/true-west-magazine-january-2021-sitting-bull/