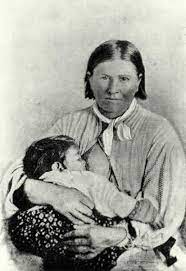 Cynthia Ann Parker was born to Silas and Lucinda Parker (nee Duty) in Crawford County, Illinois. She was born about 1824. In about 1834, they settled in Texas living at a settlement of her grandfather John Parker the family patriarch.
On May 19th, 1836, she was taken captive during a Comanche raid. When she came of age, she married the chief of the Quehadi branch of the, Comanche, Peta Nocona. The marriage for her was pleasant. She was his only wife. Customarily, a chief had several wives. She gave birth to a boy they named Quanah, who was destined to become the greatest of the Comanche leaders.
She had two more children, but both died.
She remained with the Comanche for nearly 25 years before being taken by Captain Sul Ross and his Texas Rangers in 1860 at the Battle of Pease River and returned to her Parker family relatives.
She tried to run away several times and rejoin her people but was caught and returned. After her baby died, she stopped eating and died. Many say it was of a broken heart.
Quanah, after she died took his mother's last name. In 1905 Quanah Parker rode in Theodore Roosevelt's Inaugural Parade in Washington D.C.