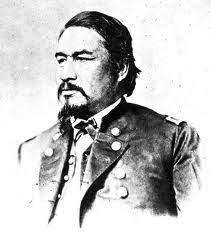 The highest ranking American Indian in the U.S. Cavalry was General Ely Parker, an Iroquois from Indian Falls, New York. His hopes for a career were stymied because he was an Indian until he made the acquaintance of Lewis Henry Morgan who helped him gain admission to study engineering at Rensselaer Polytech Institute at Troy, New York. He graduated with a degree in civil engineering.
As an engineer he contributed to several upgrades on the Erie Canal. While working as a supervisor of government projects at Galena, Illinois he made friends with Ulysses S. Grant, something that would change his life.
When the Civil war broke out, he tried to raise a regiment of Iroquois Indians but was turned down by New York Governor, Edwin Morgan because he was an Indian. He tried to join the Union Army as an engineer but was turned down again because he was an Indian.
He prevailed upon his friend, the upcoming star of the Union Army, Ulysses S. Grant, who commissioned him as a captain of engineers. He became chief of engineers during the siege at Vicksburg. When Grant became the Military Commander of the Military Division of the Mississippi, Parker became his adjutant during the Chattanooga Campaign. He served with Grant at the Overland Campaign and siege at Petersburg.  At Petersburg he was appointed military secretary to Grant with the rank of lieutenant colonel. He wrote much of Grant's correspondence.
When Grant and Lee met at Appomattox in the spring of 1865 to discuss a surrender, Parker helped draw up the surrender documents.
At the surrender Lee extended his hand and said, "I see one real American here." Parker replied, "No Sir, we are all Americans."
After the war he became a Brig. General and commander of the 2nd U.S. Cavalry. In 1869 Grant named him the first American Indian as Commissioner of Indian affairs.
Parker, Arizona is named in his honor.