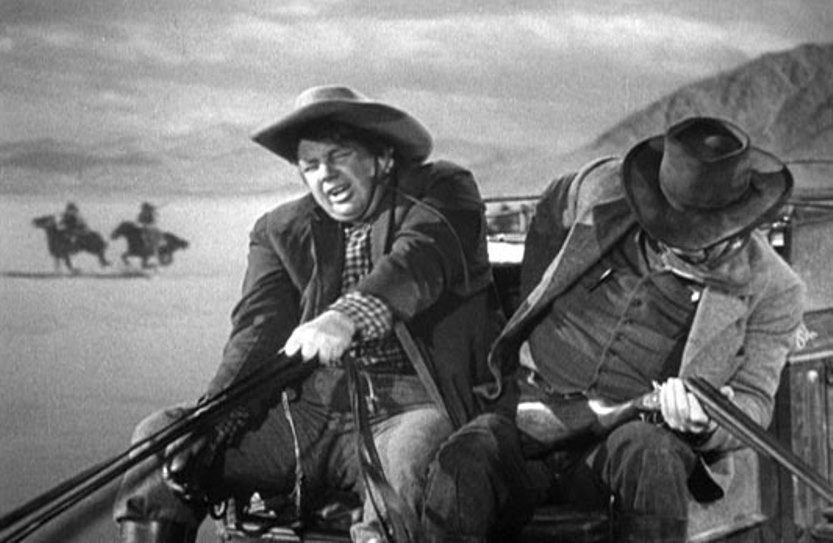 Andy Devine was a big man not just in size but also in heart and soul. Probably the last time anyone called him "Little Andy" was when he was about three. He arrived in Kingman with his Irish-Catholic family when he was at the tender age of one. Nobody could have realized it at the time that the chubby, mischievous youngster would one day be one of Hollywood's most famous character actors.
Andy's father Tom had lost his leg while working for the Santa Fe Railroad in Flagstaff where Andy was born. With settlement money he took his wife Amy and family to Kingman where he bought the Beale Hotel. Andy was so full of energy that it seemed he was either getting into mischief or getting hurt in one way or another. The local Mohave Miner reported on February 29th, 1908 that "Andrew fell 13 feet from the rear porch of the hotel sustaining a fracture of his left arm and various bruises." Another accident would change his life. One day Andy was bouncing up and down on the couch with a curtain rod in his mouth when he fell and damaged his throat and vocal cords. Later, when asked about the strange nodes on his vocal cords Andy replied, "I've got the same nodes as Bing Crosby but his are in tune."
Andy's hell-raising and rowdy antics while growing up in Kingman are still a part of the local folklore. He was a good football player and after high school he starred for Northern Arizona Teacher's College at Flagstaff, now NAU and Santa Clara University. He also picked up a few dollars playing semi-pro football under the assumed name of Jeremiah Schwartz.
After college he headed for Hollywood to work in the movies where his football experience gained him a role in 1931's "The Spirit of Notre Dame."
Andy started out in silent films but when his friends told him his career would soon be over because his scratchy voice, once described as a "steam calliope with the broken key," was unsuitable for microphones. So, he decided to commit suicide. At least that's what he later claimed. He went back to his bungalow, opened up the oven door, turned on the gas and stuck his head inside. After a while Andy realized his landlady had turned off the gas because he hadn't paid the rent.
It was a good thing because his ratchety voice would become his ticket to stardom as a character actor. Andy's first "talkie" was Law and Order in 1932 where he played a dull-witted young man who was hanged after an accidental killing but that quickly turned to "sidekick" acting. He played a character named Cookie Bullfincher in nine movies before replacing George "Gabby Hayes" as Roy Rogers sidekick. He made a career of playing comic relief roles in musicals, westerns and the "heavy" in some gangster flicks. Most of his movies during the 1930s were "B" type.
Andy's big break came in 1939. Director John Ford had decided to film the movie "Stagecoach" in Monument Valley. Originally he'd wanted one of his regulars, Ward Bond, in the role of the stage driver. Trouble was, Bond didn't know how to "pull six ribbons," or, handle the six reins on a horse-driven stagecoach and Andy did, so he got the job instead and the rest is history. The film was a breakthrough movie for both John Wayne and Andy Devine and the two became lifelong friends.
Andy was also an avid pilot and during WWII he took time out from making movies to train pilots for the government.
During his movie career, Andy worked some 400 movies, appearing with Hollywood's elite and playing numerous versatile roles. He also worked in radio appearing over 75 times with Jack Benny. He became best known for his role as "Jingles" while starring with Guy Madison in "The Adventures of Wild Bill Hickok" which the two later reprised for television.
Andy Devine is remembered today as one of Hollywood's most beloved stars. He was a good family man who remained married to his wife Dorothy over forty years. Introduced by Will Rogers, they married in 1933 and raised two sons, spending most of their time on the family ranch.
Andy died of cardiac arrest in 1977 and at his funeral two of Hollywood's most stalwart actors, James Stewart and John Wayne were reduced to tears.