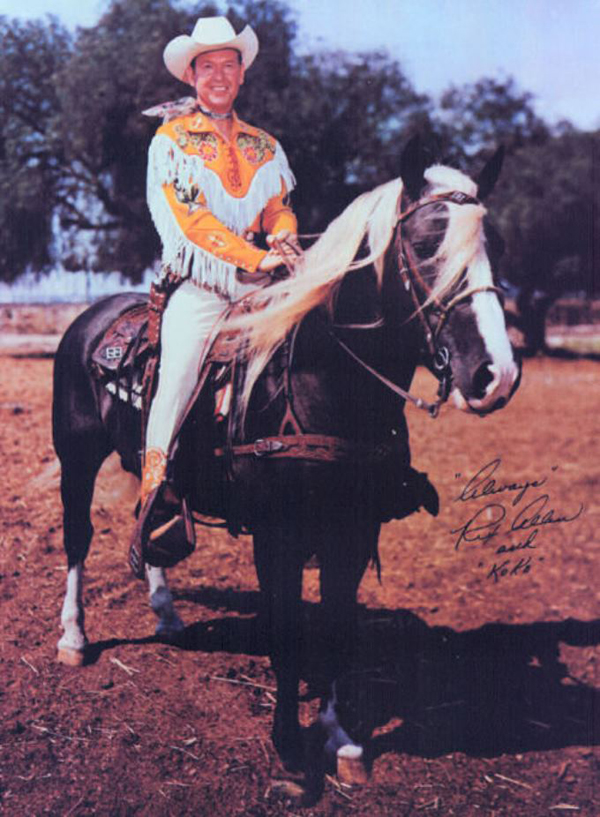 They call him the "Last of the Silver Screen Cowboys." They might have added he was also the only one of the famous singing cowboys who could lay claim to being a real cowboy.
Rex Allen was the last in a long line of hard-riding, straight-shooting, singing cowboy heroes who exemplified, through their music and actions that good can triumph over evil and that justice does prevail.
Rex was born on a ranch in Mud Springs Canyon, forty miles
from the cow town Willcox, in southeastern Arizona. Life wasn't easy, one brother died of a rattlesnake bite and another from scarlet fever.
Rex was born cross-eyed, the local Rotary Club in Willcox took up a collection to send him back east to get his eyes fixed and the results were marvelous. Rex never forgot the generosity of the folks in his hometown.
His dad Horace, an old-time fiddler bought Rex a cheap Sears Roebuck guitar so his boy could provide accompaniment for him at the local dances and rodeos. Sometimes he could earn as much as $1.50 in tips playing on Saturdays at the streets of downtown Willcox.
Rex aspired to become a rodeo cowboy and after graduating from high school he toured the southwestern rodeo circuit for a time but his destiny lay in becoming a singing cowboy.
Times were tough during the Great Depression so Rex and his dad took a job in Phoenix as plasterers.  He also took a singing job at radio station KOY in Phoenix.
Country music legend, Roy Acuff became the stepping-stone that eventually allowed him to move forward with his career by helping him get an audition at the Grand Ole Opry. However, another young cowboy singer named Eddie Arnold, who was calling himself "The Tennessee Plowboy," got the job instead.
Rex did hook up with the WLS National Barn Dance in Chicago in 1945 where he met his future wife, singer Bonnie Linder and the two were married in 1946. Their son Rex Jr. was born the following year.
The National Barn Dance provided him with a pathway to Hollywood stardom. He had his own radio show on CBS so when he signed with Republic Pictures in 1949 the family moved to California taking the radio show with them.
Rex was already getting attention in tinsel town before his first film, The Arizona Cowboy, hit the theaters. He wasn't too fond of that film. "That turkey wasn't released," he later quipped, "it escaped."
By the end of 1950, he had four starring roles under his belt along with a guest appearance in a Roy Rogers picture. Rex continued making movies with his famous horse until 1954, starring in nineteen singing cowboy pictures. As cowboy movies began to fade, Rex made his last movie, The Phantom Stallion in 1954.  He continued making hit records and touring the rodeo circuit.  He starred in a TV show, Frontier Doctor and Dell had a series of Rex Allen comic books.
For many years, Rex was one of the most recognizable voices in America. His rich, mellifluous western drawl caused him to be recognized as the "Voice of the West."  He was heard on hundreds of commercials including Ralston Purina and he narrated more than 100 films, mostly westerns and animal stories for Walt Disney.
Back in 1951, when Rex's career as a hero was really taking off, folks back in Willcox, Arizona, initiated a celebration called "Rex Allen Days." The community event and rodeo still honors their hometown hero.
Along with a star on Hollywood's Walk of Fame in 1983, he was inducted into the Western Performers Hall of Fame at the National Cowboy and Western Heritage Museum in Oklahoma City, Oklahoma.
Rex Allen, "The Arizona Cowboy," took his last curtain call on December 17, 1999, in Sonoita, Arizona.
The Rex Allen Cowboy Museum and Willcox Cowboy Hall of Fame is located on Railroad Avenue in Willcox where Rex sang and played for tips as a youngster. The museum features a collection of memorabilia with posters, photos and musical instruments including that Sears and Roebuck guitar his father bought him.
Rex's ashes were scattered at the Railroad Park across the street from the museum, as is the grave of his horse Koko. Standing near is a bronze statue of the "Last of the Silver Screen Cowboys."
Postscript;
I had the honor of appearing on the same show with Rex Allen a couple of times and took over his spot doing radio commercials for a chain of western stores after he retired. During Arizona's Centennial in 2012, I was honored again to make several appearances around the state with Rex Jr. who wrote the Arizona State Song, "I Love You Arizona."