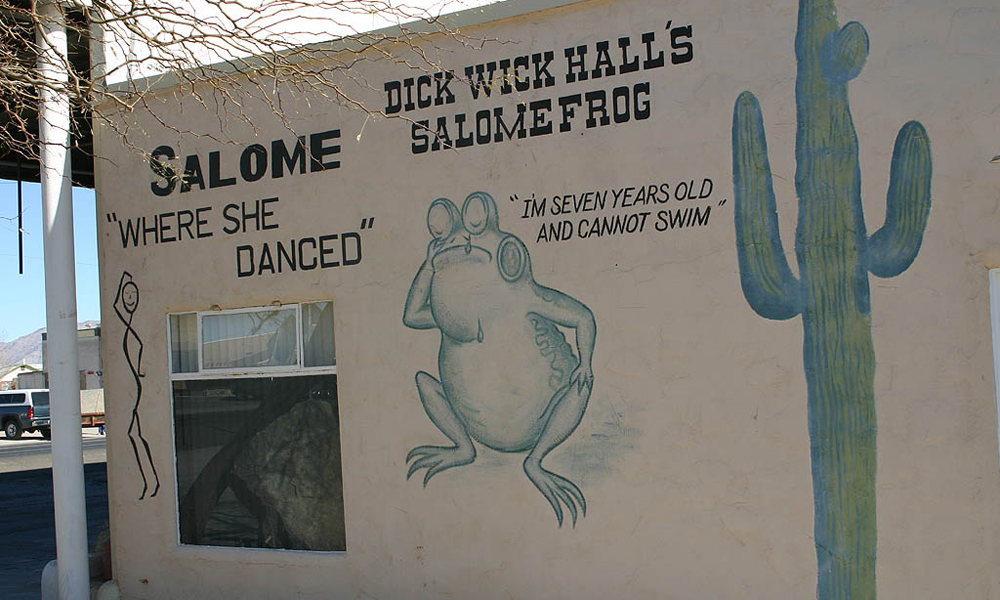 Since its earliest days Arizona has attracted an array of colorful characters. They arrived from all over the globe and ran the wide gamut of frontier society. For some it was the lure of the boomtown bonanzas. Others found it to be refuge from the more restrictive societies of the big cities. Standing tall among that illustrious group was Dick Wick Hall. He loved the desert.
His given name was Deforest but when he arrived in Arizona in the 1900s he was so taken by the desert around Wickenburg he changed his middle name to Wick. Needing a first name that rhymed with his middle he anointed himself, Dick.
Hall opened a gas station on the Los Angeles to Phoenix highway, west of Wickenburg on a forlorn spot he named Salome.  His "Laughing Gas Station" plastered homemade signs on the walls of his place of business and for miles along the dusty road in both directions leading into town.
He poked fun at the weather, bumps and ruts on the highway that wasn't much more than a cattle trail that advertised, among other things, "free hot air." His best laugh-getter was "Smile, Smile, Smile; You Don't Have to Live Here But We Do."
His dry humor was an instant hit with weary travelers who were negotiating their way across the hot California and Arizona deserts without air conditioning.  He could wrangle a grin out of even the most cynical traveler.
While on a trip to Los Angeles in 1909, he chanced to meet Daysie May Sutton whom he proceeded to pursue, finally winning her heart through his tender love letters and poetic verse. He even managed to persuade her to move to Salome, a place claimed by many that wasn't the end of the world but you could see it from there.
Dick Wick Hall had more plans than a politician. Among them was his one-page mimeographed newspaper, The Salome Sun that featured a dehydrated seven-year-old frog that couldn't swim because it had never seen water. There was and the mythical goddess Salome herself, a shimmering cartoon beauty dancing barefoot on the hot desert sand like a mirage.
Soon people around the country were aware of Salome, Arizona reading his homespun stories spiced with other mythical characters as the "Reptyle Kid," "Chloride Kate" and "Sheep Dip Jim."
Before long Hall's humorous tales were being published in Saturday Evening Post, bringing international fame to him and the desert community he loved so well.
Unwittingly, he discovered a way to keep snowbirds from clogging up the highways with perhaps his most famous creation. It was the mythical Greasewood Lynx Golf Course that was 247 miles long with a 16,394 par. He pledged to provide canteens, pack mules and maps for golfers. Boasting with considerable pride that a winter visitor could spend an entire season in Salome and get in only one round of golf.