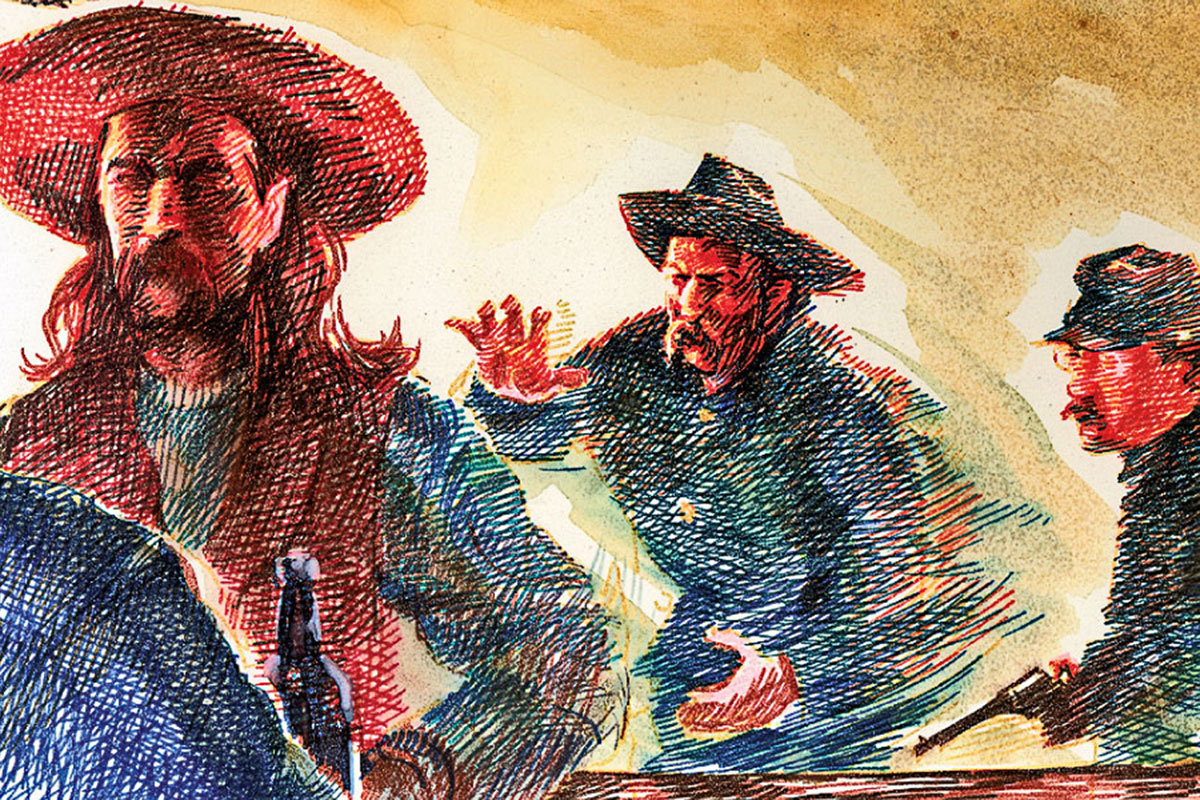 On July 17, 1870, in Hays City at Paddy Welch's saloon a couple of drunken troopers from Custer's 7th Cavalry jumped Hickok, who was back in Hays probably in his role as a deputy U.S. marshal.  The soldiers, Jeremiah Lonergan and John Kile attacked Hickok while his back was turned. Lonergan, a pugilist of local renown, ran up and threw his arms around Hickok pinning his arms, wrestling him to the floor. Meanwhile Kile pulled his Army issue revolver from inside his blouse, stuck the muzzle in Hickok's ear and pulled the trigger. Fortunately for Hickok, it misfired (the Remington was notorious for misfires and blowing up as military tests proved) otherwise Kile would have gone down in history as the "man who killed Wild Bill."
As the three men grappled on the floor Hickok was able to draw his weapon and fire a shot into Lonergan's knee, which forced the soldier to release his grip. Hickok then fired twice mortally wounding Kile. He died at Fort Hays the following day.
Unsure of how many other troopers might with join the fray, Hickok made his escape by jumping through a window, taking the sash and glass with him.
When word reached Fort Hays, several 7th Cavalry troopers were reported to be in pursuit of Wild Bill, but the military did not pursue charges because the two soldiers were not on duty at the time and they had been involved in a barroom brawl.
After escaping Hickok went to his room, grabbed his Winchester and a hundred rounds of ammunition and hid out in the Boot Hill cemetery.
The next day he headed for the Big Creek Station and boarded a train leaving town.
Kile was an unfortunate case. Earlier, he'd deserted from the 5th Cavalry and then joined the 7th but in his previous role had received the Medal of Honor for bravery. Longergan recovered but was later killed in another brawl.
As the years went by the story of the fight in Paddy's saloon grew with each telling until James Buel had Wild Bill fighting 15 soldiers, killing three, wounding two and being himself wounded seven times.
Buel's version also had General Phil Sheridan ordering Hickok brought in "dead or alive," which was also a tall tale.
Marshall Trimble is Arizona's official historian and vice president of the Wild West History Association. His latest book is Arizona Outlaws and Lawmen; The History Press, 2015. If you have a question, write: Ask the Marshall, P.O. Box 8008, Cave Creek, AZ 85327 or email him at marshall.trimble@scottsdalecc.edu.