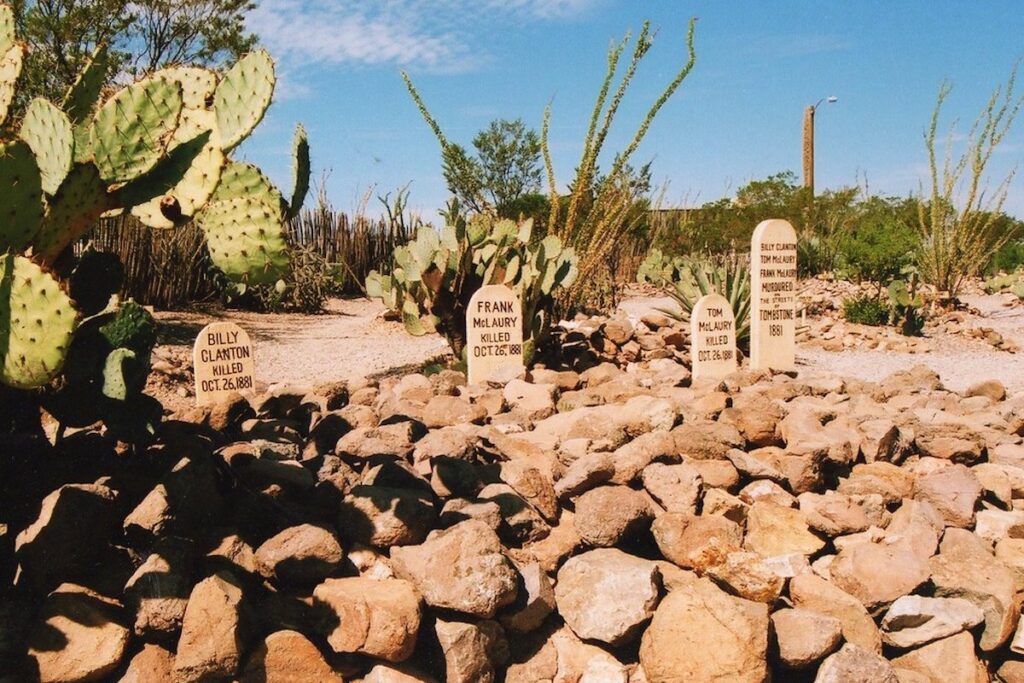 Every town in the West had their "boothill" where people go for the "Long Sleep."
It's supposed to signify that the permanent residents of the cemetery had died with their boots on or died in some kind of violence rather than passing peacefully in bed.
Tombstone's Boot Hill opened in 1879 and closed around 1884 when the new Tombstone City Cemetery opened. During Tombstone's first Helldorado the citizens refurbished the old boot hill as part of the celebration. The wooden tombstones had rotted or had been scattered by the elements. Nobody could remember exactly where the actual bodies had been located. John Clum couldn't recall where his wife was buried. It would become a popular tourist attraction.
Some of the well-known names of those who are said to be but not resting on Boot Hill include Lester Moore. He was supposed to be a Wells Fargo station agent in the border town of Naco, who died in a gunfight with a man named Dunstan over a mangled package. His famous epitaph reads; "Here lies Lester Moore. Four slugs from a.44. No Les, no more.
John Heath, who was accused of organizing the robbery that led to the infamous Bisbee Massacre in 1883 where four bystanders and a pregnant woman were shot down by the fleeing bandits. The five outlaws were caught, tried and convicted of murder at the Cochise County Courthouse in Tombstone.  The five men, Bill Doud, Bill Delaney, Dan Kelly, Tex Howard and Red Sample were all sentenced to hang on March 8,1883. It would be the largest mass hanging in Arizona history.
A sixth man, John Heath, a Bisbee bartender had aroused suspicion by trying to mislead the posse. He finally confessed. Heath demanded a separate trial on grounds he had not been present at the robbery and the murders. He got his separate trial and was given a long prison sentence but that wasn't enough for the Bisbee citizens. On Washington's Birthday, 1884, several days prior to his comrades hanging, the determined lynch mob marched up to Tombstone, passing right past cells of the condemned men, and took Heath out and hanged him from a telegraph pole on Toughnut Street. It was Tombstone's only lynching.
However, he was not buried in Tombstone's Boot Hill. His body was returned to his estranged wife in Terrell, Texas.  Tombstone's famous "Gunshot Physician," Dr. George Goodfellow was present that day and gave the coroner's report summed up the general feeling of most when he issued this report: "I can't see but one ruling possible here. It's my opinion that this man died from emphysema from strangulation, self-inflicted, or otherwise as is in accordance with the medical evidence."