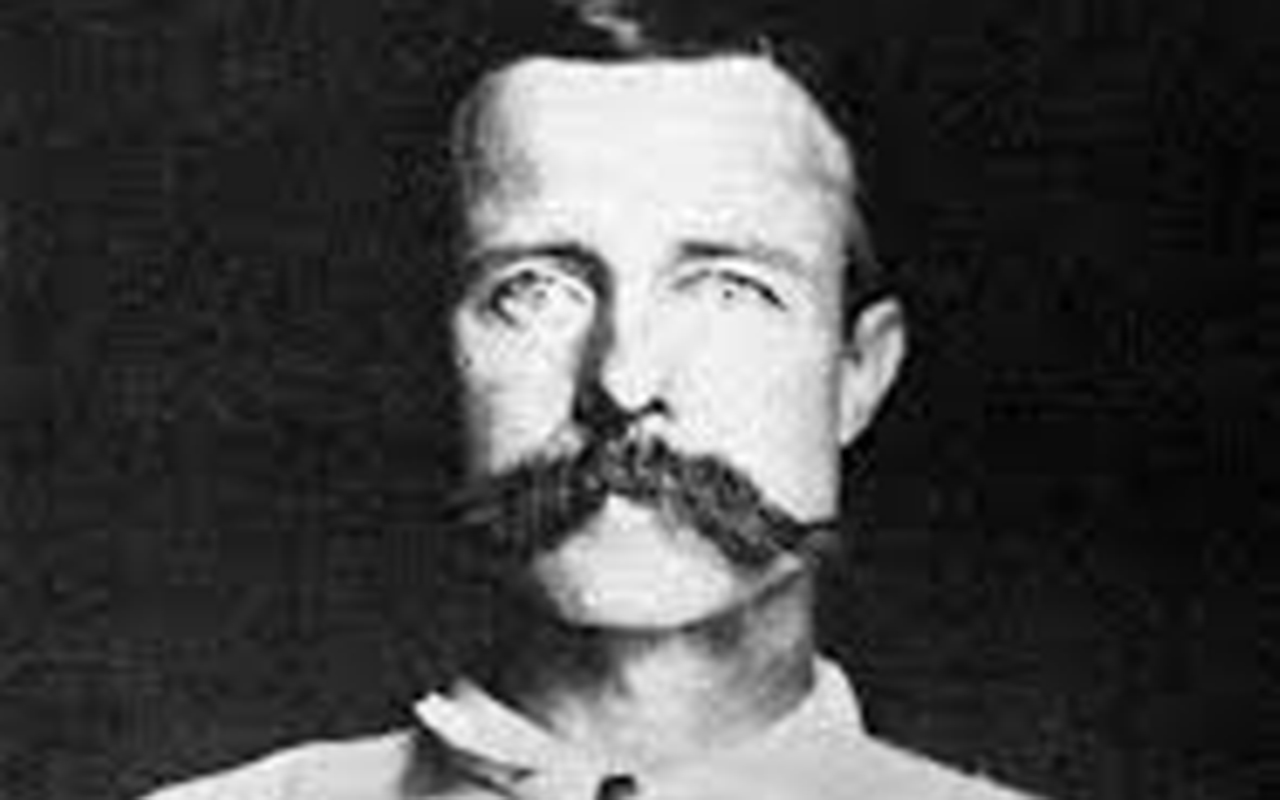 There is a story about old man who died in San Diego back in 1948. He was admitted under the name of Barney McCoy but shortly before he died, he said his real name was Frank Leslie, minus the "Buckskin." Was this story credible or not? In 1948 Buckskin Frank would have been 99 years old. Knowing Frank's lifestyle I don't believe he could have lived that long.
It was pretty common for those old timers to get delusional and start thinking they were somebody famous, especially after all those who could identify the real deal were dead and gone.
Authors Jack DeMattos and Chuck Parson's exhaustive research, in what critics are calling the definitive biography, They Called Him Buckskin Frank: The Life and Adventures of Nashville Franklin Leslie, uncovered many previously unknown pieces to the puzzle in the gunfighter's convoluted life story.
Many gaps remain in the real Buckskin Frank's death like his life, remain shrouded in mystery.
Buckskin Frank Leslie arrived in Tombstone in early the early summer of 1880 where he rented a room and hired out as a bartender at the Cosmopolitan Hotel.  He arrived wearing buckskin britches and jacket. Soon he was dressing and more formal attire, but continued wearing his buckskin jacket.
Handsome and dashing, Nashville "Buckskin Frank" Leslie was quite a lady's man. That and whiskey would eventually be his undoing.  Soon after taking a job at the Cosmopolitan he began an affair with Mae Killeen, wife of fellow bartender Mike Killeen. Mike warned him to stay away from Mae and on the evening of July 4th night he caught them together on the porch of the Cosmopolitan. A fist fight ensued and soon advanced to guns and when the gun smoke cleared Mike was dead on the ground. A grand jury determined it was self-defense and two days later the buckskin man and the "grieving widow" were married.
It's been said Frank was quite handy with a six-gun and frequently put on shooting exhibitions. He was good enough to cause others to give him a wide berth, especially when he was loaded with Tangle Leg Tarantula juice. Neighbors of the Leslies noted that when in his cups, Frank practiced his marksmanship by standing Mae up against a wall, pointing his revolver and tracing her shapely silhouette.
In November 1880 Frank took a job as bartender at the Oriental Saloon working for Milt Joyce and Wyatt Earp. He was also on friendly terms with some members of the Cow-boy faction including Johnny Ringo and Curly Bill Brocius. A feud between the Cow-boys and the Law and Order had been brewing for some time and on March 15th, 1881 four men, later identified as members of the Cow-boy faction attempted to rob the Benson stage. The robbery was thwarted by shotgun messenger Bob Paul, but the driver and a passenger were murdered.
It turned out to be a public relations nightmare for the Cow-boys and their supporters as the citizens of Cochise County began to demand something be done about the outlawry. Frank joined the posse that went in pursuit of the bandits as a tracker but many years later he confessed to Wyatt that he'd misled the posse to help his Cow-boy pals. They captured one, Luther King, who fessed up the names of the other three. Sheriff Johnny Behan decided to escort him to Tombstone. King didn't remain behind bars long; His cell was unlocked, and he walked out the door where a horse was saddled and ready to ride. Since he had given the Earp's the names of the other three, Jim Crane, Harry Head and Bill Leonard. It's believed the Cow-boys disposed of him and left his body to rot out in the mesquite. During the next few months the other three were killed in separate gunfights. This was the beginning of a series of events that led to the "Gunfight Behind the OK Corral" seven months later.
On the afternoon of July 13th, 1882 a shot was heard on the trail leading to Galeyville, a Cow-boy hangout on the east side of the Chiricahua mountains. The next day Johnny Ringo was found at the foot of a scrub oak tree on Turkey Creek with a bullet in his head. Ringo had been depressed and drinking heavily the past few days. A coroner's jury ruled it suicide but there were some, including Billy Claiborne, that Ringo had been gunned down by Buckskin Frank.
On the morning of November 14th upon learning of the coroner's report Billy Claiborne headed for the Oriental Saloon and called out Buckskin Frank. Billy is best remembered as one of the Cow-boys who ran away when the shooting started at the Earp-Holliday, Clanton-McLaury shootout leaving his friends to die. Frank tossed Billy out. "I'll get even with you." Billy warned.
A few minutes Frank was told Billy was coming down Allen Street armed with a Winchester. Frank grabbed his revolver and headed for the 5th street exit. Frank didn't want to bushwhack the kid, so he called out, "Billy, don't shoot." He allowed the kid to get off one round that missed then he fired a fatal shot. Before dying Billy swore that Frank had admitted killing Ringo.
Milt Joyce moved to California and Frank took over his ranch in the Swisshelm Mountains about twenty-five miles east of Tombstone. Frank still found time to ride to town, do some drinking and dally with good time girls at Sixth and Allen Street.
Frank and Mae split the blanket in 1887. It's amazing to think she put up with his drunken shenanigans for seven years. However, her divorce charges failed to mention his artistry with his revolver around her pretty figure but numerous one-night stands with prostitutes.
Frank quickly found another beautiful mate to share his bed, a prostitute named Mollie Sawyer, Williams, Edwards, and Bradshaw. Sometimes she was just Blonde Mollie. She hadn't necessarily married all those guys, just spent enough time to use their last names for a spell. Mollie was a popular entertainer at the Bird Cage Theater. Blonde and Buxom, Mollie could sing and dance. She was married or "married" to E. L. Bradshaw who owned the theater. His only claim to fame was he shot and killed a man named T. J. Waters in a dispute over the color of his shirt. His body was found in an alley in Tombstone soon after Buckskin Frank became interested in her. Poor Mollie, her handsome beau was a real lady killer……literally
What Frank and Mollie had most in common other than sex was their love of whiskey and it led to many a fiery argument. She moved out to the Magnolia ranch in the Swisshelm's.
Things were going well for the Leslie's until Independence Day, 1889. They went on a drinking binge that lasted a week. They arrived back at the ranch. Living on the place was a young man named Jim Neil who liked to call himself "Six-gun Jimmy." Did he do anything to provoke Frank? Quien sabe?
Frank later claimed Mollie had a gun but that's doubtful.  In a jealous rage he shot Mollie. Then he shot Jimmy twice before passing out. But Jimmy wasn't dead, he managed to crawl to a neighbor, who fetched Dr. George Goodfellow the "Gunshot Physician" in Tombstone.
The next morning Frank woke up, planned his alibi  and rode to Tombstone. On the way he met a posse. He told them Two-gun Jimmy had killed Mollie and he, in self-defense killed Jimmy. The posse pretended to believe his story, asked him to surrender his weapons and took him to town.
Frank had to be mighty surprised to learn "Two-Gun" Jimmy was still alive. Despite that he stuck to his story until he realized if Jimmy took the stand and the jury believed him, he would face the hangman's noose. He copped a plea and was sentenced to twenty-five years.
In January 1890 Buckskin Frank was escorted to the Yuma Territorial Prison by Cochise County Sheriff John Slaughter. A story is told that before dropping him off at the prison Slaughter took him to a saloon at the Southern Pacific hotel and let him wash off the trail dust.
He would do a little time in the "dark cell" for an attempted escape but otherwise Frank was a model prisoner, working as a pharmacist and commended for risking his life to treat patients during epidemics.
Prisoner #632 was pardoned and released on November 17th, 1896. Waiting at the exit gate was a was a woman named Bell Stowell. She had fallen in love with the famous gunfighter while he was behind bars and began corresponding with him.
On December 1st, 1896 he married the wealthy divorcee. He spent the next few years working in mines in Mexico. He returned to San Francisco and on November 25th, 1902 he accidentally shot himself. In March 1903 he and Belle are divorced.
There are many blank pages in Frank's history but on November 6th, 1913 he married Elnora T. Cast in Napa, California. This marriage didn't last long either.
The next few years are kind of a blur various stories circulated but on October 31st, 1927 his partially burned remains were found near El Cerrito, California. It was determined that between October 5th and October 31st, 1927 Leslie was murdered, probably by a serial killer. Most likely his remains were probably dumped in a common grave or perhaps tossed in an incinerator so there is no tombstone for the famous gunfighter, Buckskin Frank Leslie.