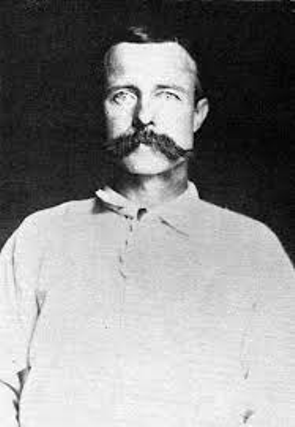 Among the many colorful denizens of Tombstone society during its heyday was Buckskin Frank Leslie. Although he was only 5'7" and weighed 135 pounds Frank acquired a reputation as a man not to be trifled with. His nickname came from the buckskinned-fringed jacket he wore.
Frank's early years were spent as an Indian scout for the Army in Oklahoma, Texas, and Dakota during the 1870s. Nobody knows for certain where he came from because he listed several places. He arrived in Tombstone around 1880 where he slid easily into the raucous social life of Arizona's largest boom town.
Handsome, dashing Buckskin Frank was also quite a ladies' man.  During the summer of 1880 he took a liking to a beautiful dark-haired lady named Mae Killeen. Although she was separated from her husband Mike, he was keeping a jealous eye on her saying he would shoot any man trying to "woo" her.
On June 22nd, 1880, Mae was sitting on the porch of the Cosmopolitan Hotel with Frank when Mike made the mistake of confronting the hot-tempered gunman. When the gunsmoke, cleared Killeen was dead on the ground. A week later Frank married the "grief-stricken" widow.
Marital bliss, if one could call it that, between the couple didn't last but a few years. Frank and the widow Mae split the blanket in 1887 allegedly after she grew tired of him making her stand against a wall while he traced her silhouette with bullets from his six-shooter.