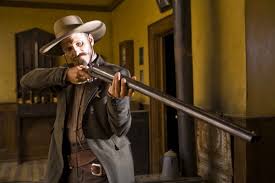 I recently reread Streets of Laredo by Larry McMurtry. He writes about an 8-gauge shotgun. Are there any still around?
The 8-gauge dates back to the blackpowder days. They are an obsolete gauge that has not been made in the U.S. since the late 19th century and are illegal today for hunting waterfowl. It's also illegal to shoot waterfowl with lead shot. The 10-gauge shotgun is the largest one used in the U.S. today.
Because the old black powders weren't that potent those old shotguns weren't really all that great. A modern 12-gauge can outperform a vintage 8-gauge.
They're still around. To find one you have to try an antique store, museum or gun collector. I found one on the Internet selling for just under $30,000. A functional 8-gauge shotgun is probably an antique with Damascus steel barrels rated for black-powder loads only and should not be fired with modern ammo. Among the companies that produced them were C.A. Shuttuck C.S. of Hatfield, Mass. , Massive Mortimer, and Parker.
Viggo Mortensen used one in the film "Appaloosa."