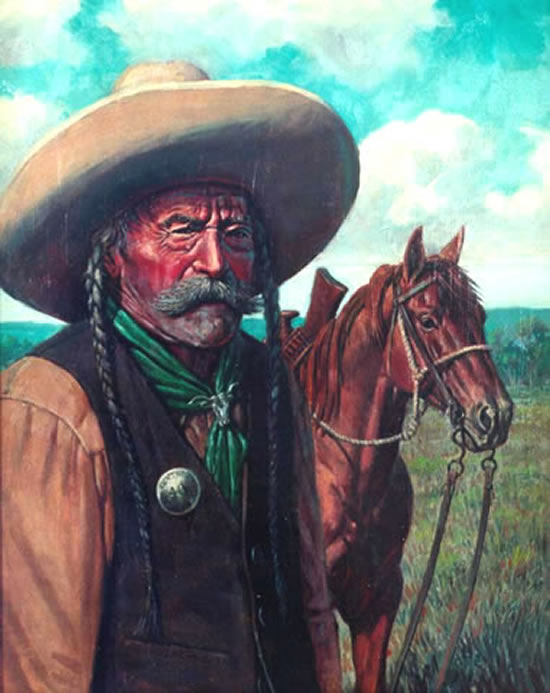 In his autobiography, Pistol Pete: Veteran of the Old West, Frank Eaton spins a bigger-than-life tale of his life as a Deputy United States Marshal, frontier sheriff, army scout and cowboy. All we know about him is what we glean from this book. Much if not all of the story of his being a lawman appears to be fictional. A search of the rosters of the Deputy U.S. Marshals in Judge Isaac Parker's district has no Frank Eaton listed. There are no corroborating sources for his claims of being a scout for General George Crook in the Geronimo campaign. The truth is there is no record of any of his amazing feats. It seems "Pistol Pete" was a likeable old gent with a fertile imagination.
The West in the early 1900s had an abundance of colorful, bewhiskered old timers who claimed they rode with Jesse James or the Dalton's and writers took them at their word. Oklahoma train robber Al Jennings, when he got out of prison following a bungled train robbery, went to Hollywood after he got out of prison and became a celebrity. He claimed that he out-shot Jesse James in a shooting match. However on the date Jennings claimed the match took place Jesse had been dead for several years.
The story of "Pistol Pete" began when he was eight years old, when his father was gunned down in Kansas by a band of "regulators." A friend of his father, Moses Beaman, told him, "My boy, may an old man's curse rest upon you if you do not try to avenge your father."
That part of his story is plausible, those were bloody years for both Kansas and Missouri but there is no provenance that he hunted down and killed five of the six men who murdered his father. He allegedly gunned down eleven bad guys and had the notches on his grip of his smoke wagon to prove it.
According to Pistol Pete, Beaman gave him a Navy Colt revolver and proceeded to teach him how to shoot. He began to practice until he could draw fast and pointing rather than taking aim could shoot the head off a rattlesnake "point firing" with either hand. Too young to join the Army he visited Ft. Gibson at the age of fifteen and won a shooting match. The post commander presented him with a badge and dubbed him "Pistol Pete."
Frank claims that in 1885 he hired out as a scout for Captain Emmett Crawford during the Geronimo Campaign and by 1887 he was working as a Deputy U.S. Marshal for Judge Isaac Parker's court in Ft. Smith. There's nothing to corroborate this.
At the same time Frank was a Deputy U.S. Marshal he began looking for his father's six killers. He tracked them down and killed five of them. The sixth was killed by someone else over a card game after getting caught dealing off the bottom of the deck. Frank did attend the funeral just to make sure the guy was dead.
During his long career as a lawman he also served as a sheriff and deputy sheriff. He supposedly killed eleven men. There's no proof of this.
After seeing him ride in an Armistice Day parade in Stillwater in 1923 some students at Oklahoma State University (then Oklahoma A&M College) decided "Pistol Pete" Frank Eaton should be the school mascot. He frequently visited the campus to tell his stories. Once, while he was demonstrating his quickdraw he accidentally shot a hole in the ceiling of the classroom.
Frank was married twice and had nine children. He lived to see his great-great-grandchildren before he died in 1958 at the age of ninety-seven.
There is a lot of information about this colorful character online and he certainly did exist. Did he serve as a scout for Emmett Crawford? I did not find his name in the index of several Apache books that I have. Nor is he in Dan Thrapp's Encyclopedia of Frontier Biography, Bill O'Neal's Encyclopedia of Western Gunfighters, or Leon Metz's, Encyclopedia of Lawmen, Outlaws and Gunfighters.
He lived during a time when there was an abundance of bewhiskered old timers regaling folks with tall tales of their heroic deeds and writers took them at their word. They included, Brushy Bill Roberts, who claimed to be Billy the Kid and J. Frank Dalton who said he was Jesse James.
I would love to have met him, not to challenge his veracity but, to sit and listen to him spin his yarns.