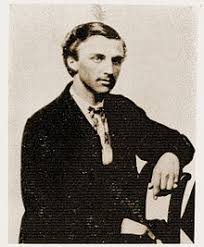 After running away from the gunfight in the vacant lot near the OK Corral in Tombstone, Ike Clanton made a desperate attempt to get the Earp's and Doc Holliday charged with murder. His twisted, self-righteous testimony, laden with errors tripped him up at the Spicer Hearings pretty much blew the case for the prosecution. His uncorroborated testimony, fallacious as it was, did irreparable damage to taint the Earp's image and was used later by writers to debunk their reputation.
Ike was likely a participant in the cowardly shotgun ambush of Virgil Earp on December 28th, 1881 that permanently crippled the Tombstone Marshal. He was also allegedly at the March 18th, 1882 assassination of Morgan Earp. Slippery Ike managed to elude Wyatt Earp during his vendetta ride.
When the smoke from the war began clearing Ike decided Cochise County wasn't a healthy place for him anymore so he and his brother Fin moved their illegal adoption of cattle (rustling) up to the White Mountains near Springerville, Arizona.
On June 1st 1887 Ike was shot and killed near Eagle Creek in the White Mountains of eastern Arizona by a correspondence school detective named Jonas V. Brighton, who'd been hired by the local cattlemen's association to take him down. Ike had always managed to evade being convicted in Cochise County by producing witness to swear he was nowhere near the scene of the crime. His luck had finally run out. Ike's demise was summarized in a local newspaper: "Thus ended the wild career of poor, deluded, misguided Ike Clanton."
Fin was sentenced to ten years at the Yuma Territorial Prison but was pardoned after serving two. This was not unusual as very few prisoners served their full terms at the notorious prison on the banks of the Colorado River.
Billy Claiborne didn't fare any better. He wanted folks to call him Billy the Kid after the real one was killed in the summer of 1881 at Fort Sumner, New Mexico. But he'd shown his true colors and was ridiculed for not helping his friends in the Tombstone gunfight near the OK Corral. He tried to redeem himself by playing a fearless, tough guy role.
Johnny Ringo had also expired that summer. His body was found on Turkey Creek on the western slopes of the Chiricahua Mountains. A coroner's jury ruled his death suicide but Claiborne believed Buckskin Frank Leslie had killed Ringo.
On the evening of November 10th, 1882 he made the mistake of getting drunk and picking a fight with Buckskin Frank Leslie outside the Oriental Saloon. Billy fired and missed; Frank fired and didn't.