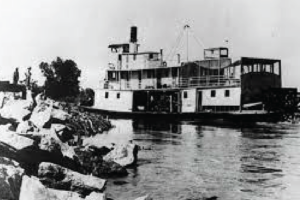 One of the most unlikely modes of transportation in Arizona was the use of steamboats on the Colorado River. The high cost of freighting goods across the desert from California brought about the business in the 1850's. The price per ton to ship goods from San Diego by wagon ran as high as $800 per ton. Even after the arrival of the transcontinental railroads in the 1880s steamboats continued to plow their way up the river to ports along the river to hauls goods into the interior of the territory.
In search of a cheaper means of transportation, primarily to supply the new military post at Fort Yuma, the government began making attempts to determine the navigability of the Colorado. The man who opened the door to steam navigation on the river but who is not usually credited for it was Lieutenant George Derby of the Army Corps of Topographical Engineers. Derby made a study in 1852, taking his129-ton schooner, the Invincible, some 30 miles above the mouth of the river. He and his crew then paddled a small boat another 60 miles to Yuma. Derby reported that flat-bottomed, shallow-draft boats could navigate the shallow waters of the Colorado.
In 1852, Captain George Johnson was given the first contract to supply Fort Yuma. He used barges at first but was unsuccessful. The next to try was Captain James Turnbull. He brought in the Uncle Sam, the first steamer to navigate the river. This underpowered craft was somewhat successful but eventually foundered on Pilot Knob. Johnson returned in 1854 with another vessel which met all the requirements of horsepower and low draft. This steamer, called the General Jessup, had a 70-horsepower engine and was 104 feet long. It was the first really successful steamboat on the river. In 1858 it went all the way upriver to El Dorado Canyon, not far from today's Hoover Dam. Soon after the General Jessup made her historic run the U.S. Army got into the steamboat business on the Colorado.