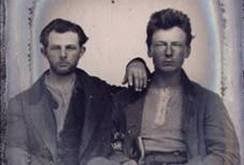 Of all the great schemes and scams during late nineteenth century, none was more bizarre than one perpetrated by a couple of cousins from Kentucky named Philip Arnold and John Slack.
Arnold and Slack, whose names conjure up thoughts of a vaudeville team, managed to acquire from a friend who worked for a diamond drill company, a large number of flawed, industrial-quality or otherwise inexpensive gems of all kinds and began a quest to find a greedy but not-too-sharp investor. They figured California would be the best place to unleash their scheme.
Their "pigeon" was a prosperous San Francisco banker named George Roberts. With dramatic flair they walked into his office one day in 1871, emptied a sack of diamonds and other precious gems on his desk. After acquiring his undivided attention, the two hucksters proceeded to stage a great argument about whether they should share their secret and accept financing from outsiders.
Soon the skeptical banker was begging for the opportunity to provide money to develop the huge diamond field located "somewhere" in northeastern Arizona.
Although sworn to secrecy, Roberts shared the information with the William C. Ralston, founder of the Bank of California. The two bankers couldn't wait to invest in the venture.
Grubstaked with $50,000 Arnold and Slack left on another expedition and returned three months later looking disheveled, telling harrowing tales of Apache attacks. They were also toting a sack full of precious diamonds.
Ralston sent the gems to an eastern merchant who pronounced them genuine.  Of course they were genuine; Arnold and Slack had purchased them with some of the money the bankers had given them.
Tiffany's of New York became interested in the gems and sent an engineer, Henry Janin, out to examine the diamond field.  This presented a slight problem for the two promoters; they had to create a diamond field so they found a remote mesa in northwestern Colorado and spread a large number of gems around. Stay Tuned!