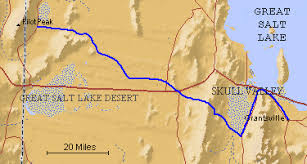 Most are familiar with the story of the ill-fated Donner Party in the winter of 1846 and 1847. Twenty wagons of emigrants bound for California chose to take a shortcut off the California Trail called the Hasting Cutoff. The delay caused them to become snowbound in what is today known as Donner Pass.
History has many ironies. A few months after the survivors were rescued, in July 1847, Mormon leader Brigham Young led a company of settlers from Winter Quarters, today's Omaha, Nebraska to what would become Salt Lake City, Utah. They too chose to follow the infamous Hastings Cutoff. The Mormons made many improvements to the road cutting through the Wasatch Mountains, now called Emigrant Canyon so that would have an easier journey to Salt Lake. The Mormons could prosper by supplying the emigrants with much-needed goods.
The California Gold Rush in 1849 and 1850 brought thousands of hopeful emigrants west and many of those used the Hasting Cutoff, now being called the Salt Lake Cutoff. However, the road avoided the dreaded Salt Lake Desert by heading northwest out of Salt Lake City north for about 180 miles before rejoining the California Trail near the City of Rocks, Idaho, a major landmark on the California Trail.
In the summer of 1848 Sam Hensley was returning to California with a small party from a trip back East. While crossing the Great Salt Lake they were caught in a violent rainstorm and had to backtrack to Salt City to replenish their supplies. From there the men headed north for the California Trail. Near the Humboldt River in Nevada he met a party of former members of the storied Mormon Battalion who were traveling by wagons heading for Salt Lake City.
Led by Samuel Thompson, the veterans had recently been discharged in California and were planning to go by way of Fort Hall. Hensley advised them of the shorter route north of the Great Salt Lake that would save them several days on the road. It was this group that changed what had been a pack trail into a wagon road.