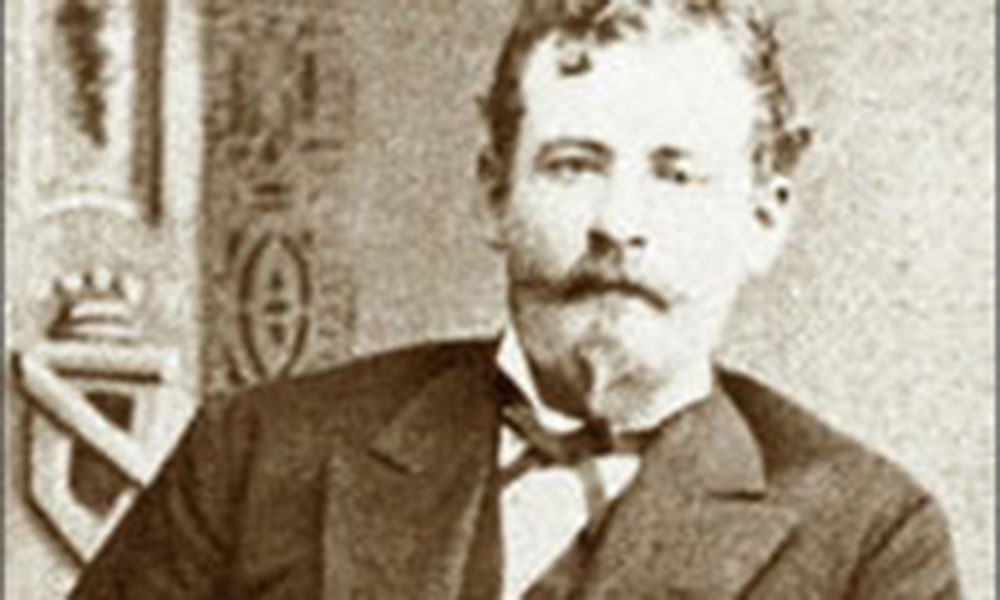 Ike and Fin Clanton had survived the Cochise County War against Wyatt Earp and his brothers five years earlier and had moved their Cattle thieving operations to northern Arizona. Their ranch, the Cienega Amarilla, was located east of Springerville, near Escudilla Mountain. The Clanton's and their associates had been accused of terrorizing local citizens, cattle rustling and even holding up the Apache County treasurer.
Under the leadership of family patriarch, Newman Haynes "Old Man," Clanton, they had created a successful business in Cochise County during the late 1870s and early 1880s brokering stolen livestock from Mexico. The old man was killed in an ambush at Guadalupe Canyon in the summer of 1881 and the youngest, Billy died a few weeks later in the so-called, "Gunfight at OK Corral."
A story was told around Tombstone that the Clanton's often boasted the reason their cattle business was so profitable is that they didn't have to buy their cows.
Ike was a likeable figure around Tombstone. He had plenty of money to spend around town and this made him popular among locals. He was also a loud-mouth braggart and more than anyone else, had instigated the fateful showdown with the Earp brothers and Doc Holliday in Tombstone on October 26th, 1881.
When the shooting started Ike ran away and hid, leaving his 19-year-old Billy brother to die. Ironically the Earp's and Doc Holliday might have been convicted of murder had Ike not testified for the prosecution. His testimony, full of outlandish tall tales snatched defeat from the jaws of victory.
Despite his popularity, Ike was a flawed character. Noted Tombstone historian Ben Traywick described him as "a born loser."
************************************
There was so much rustling in Apache County that the Clanton brothers were probably not a high priority. As he did in Tombstone, Ike passed himself off as a successful businessman. He had a lot of money to throw around and that was good for many of the local businessmen in Springerville and St. Johns.
Other members of the gang included Lee Renfro, G. W. "Kid" Swingle, Longhair Sprague, Billy Evans, who called himself "Ace of Diamonds," and the Clanton's brother-in-law, Ebin Stanley.
On Christmas Day, 1886 in Springerville, Evans wanting to see "if a bullet would go through a Mormon," shot and killed Jim Hale in cold blood.  Apparently Hale had incurred the wrath of the outlaws earlier after he helped identify some livestock they'd stolen.
Five days later, the St. Johns Herald wrote of the killing: "During a holiday jollification in Springerville on Christmas Day, the ordinary amusement of pistol shooting was indiscriminately indulged in, and the town ventilated with bullets. Mr. Hale, who was said to have been among the celebrates, was shot through the body, from which death ensued."
The Clanton's downfall Apache County began a few weeks earlier on November 6th, with the shooting of a local rancher named Isaac Ellinger at the Clanton ranch. Ellinger and a friend, Pratt Plummer, had ridden to the ranch, and had dinner with the Clanton brothers and Lee Renfro. Afterwards Ellinger, Ike and Renfro went into another cabin and were having a conversation when Renfro suddenly pulled his pistol and shot the rancher.
After the shooting Ike and Fin assured Renfro they were his friends and there was no need to make a hasty exit.
However, when Plummer jumped on his horse and rode for Springerville, Renfro mounted his horse and fled the scene.
As he lay dying Ellinger called the shooting, "cold-blooded murder," saying he had no idea Renfro was going to shoot him. He died four days later.
William Ellinger, Isaac's brother, was one of the biggest cattlemen in the West, owning ranches in several states and territories. He was a member of the Apache County Stock Association and had a lot of political clout in the area.
Isaac Ellinger managed his older brother's ranch and was also a member of the association. His murder would set in motion a strong effort on the part of the association to eliminate the Clanton gang.