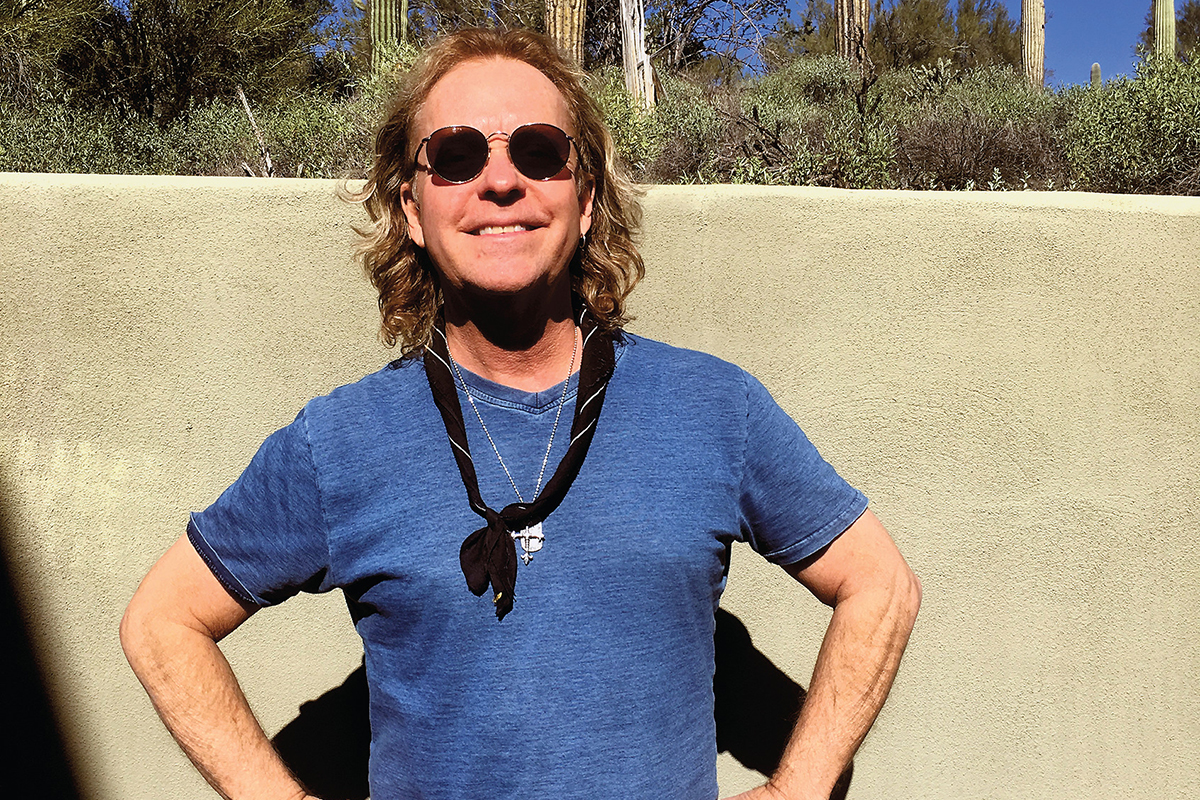 Jack Blades, Rock Musician
Rock 'n' roll bassist-singer Jack Blades has been a touring professional rock musician since he joined the San Francisco funk band Rubicon in 1976. In 1982, he co-founded the rock band Night Ranger, which he is currently touring with. He is also well known for his on-again, off-again membership in the rock groups Damn Yankees, Shaw Blades, Tak Matsumoto Group and Revolution Saints. All told, he and his bands have sold more than 25 million albums. Blades and his wife, Mollie, have been married since 1977. They have two sons, Colin and James.
As a kid I enjoyed playing in the desert. I was raised between Palm Desert, California, and Scottsdale, Arizona. In Palm Desert we lived right down the street from Hopalong Cassidy so the Wild West really permeated my very being.
Not many people know that I had a disease known as Legg-Perthes that affects the hip bone socket in small children. I was on crutches with my left leg up in a sling from six to 10 years old. As I couldn't play sports, my parents gave me a guitar at about eight years old…a little $2 plastic ukulele. That's how the music started for me.
My first gig was my brother and I called ourselves "The JB's"—our initials. I was 10 and my brother was 12. We would put on Beatle wigs and do Beatles songs at Rotary Club meetings, Kiwanis club functions, ladies golf club functions, stuff like that. People thought the name meant "The Junior Beatles."
The hardest part about being on the road is being away from my family. When we took breaks on tour
I would keep a tour bus, get my wife and kids on it, and cruise around the country visiting sites…Gettysburg, New York City, Chicago etc., some fun times for sure.
It doesn't get much better than knowing some song I wrote while I was sitting in my bedroom one day kept a kid from taking his own life. Maybe saving that one life is the whole reason I became a musician.
Trying to make a living doing music has taught me that persistence pays off. Every record label passed on Night Ranger—twice! We just had to find that one person who believed in us and we did.
I like to collect U.S. military items from about the Civil War onward but my real love and focus is anything related to Roosevelt's Rough Riders during the Spanish American War of 1898—uniforms, equipment, weapons, documents, reunion items. I love it all.
I got into collecting because my mother's first husband was killed in World War II at the Battle of the Bulge. Before he died he sent back an SS dagger and a pair of German binoculars with the artillery grid in the lens. Those things always fascinated me growing up so when I started touring with the band in 1982 I would frequent antique and junk shops all over the country. One could find great stuff out there—pre-internet and eBay of course!
The secret to a good marriage is never going to bed mad at each other. Clearing everything up before the lights go out…well, usually…clears everything up.
My favorite Western is Tombstone. Val Kilmer should have gotten an Academy Award for his portrayal of Doc Holliday.
My favorite place in the West to escape to is Sedona. When I was growing up in Arizona we used to go camping at Red Rock Crossing every summer for two weeks.
The best advice I ever received was from my dad, who said, "Son, don't ever count on anyone but yourself to get by in this world." Best advice I ever got.
History has taught me that you can't judge the past by the current time period's ideals and morals; it just doesn't work that way.
My next gig is going to be the lead role in "Tombstone 2"—the sequel!