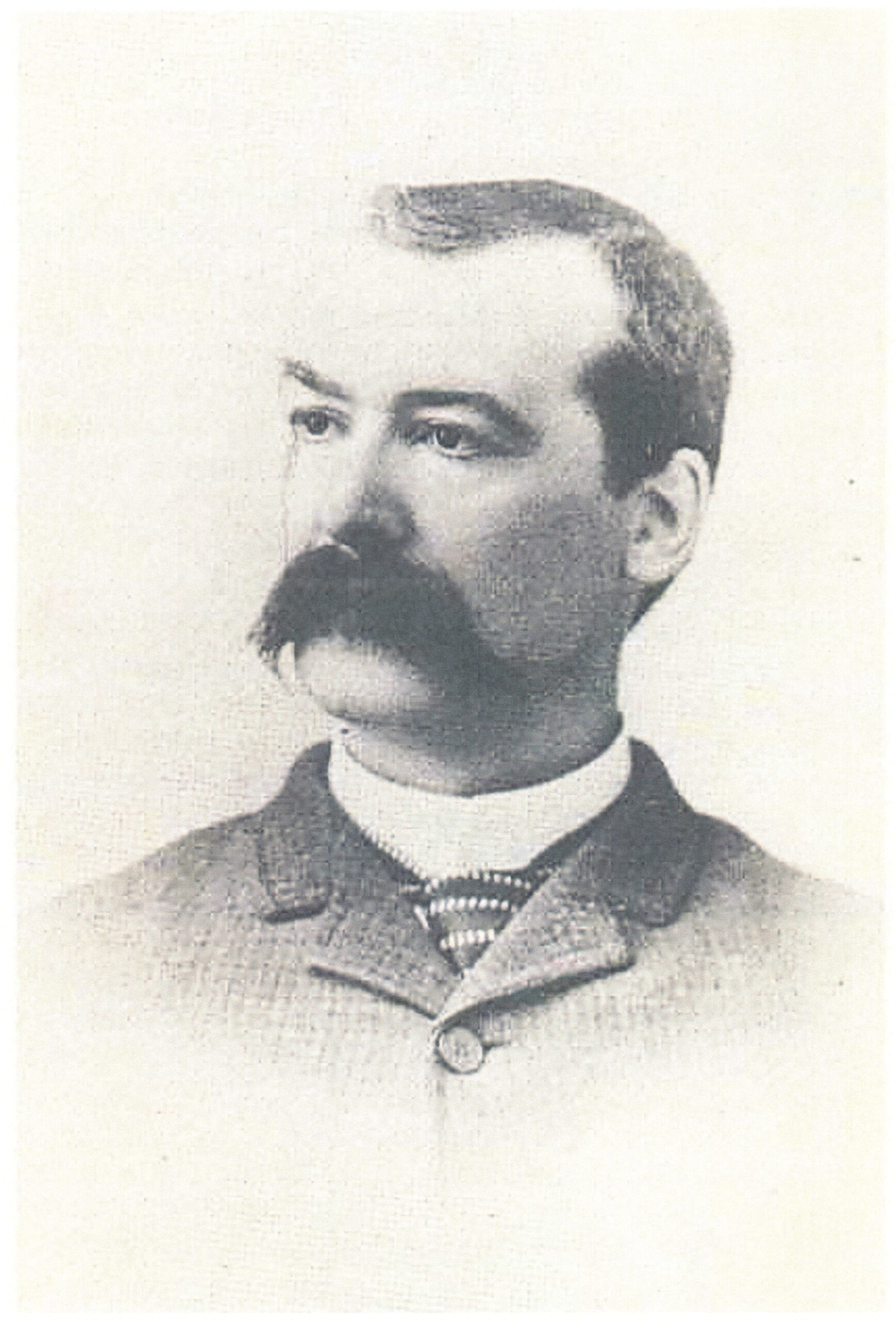 Burt Mossman was Governor Murphy's choice to be the first captain of the Arizona Rangers.  The rawhide-tough cowman had made quite a reputation for himself when he ran the famous Hash knife outfit in northern Arizona.
Mossman's life reads like something out of a Louis L'Amour western.
The son of a Civil War hero, he was a descendant of the Scots-Irish, those intrepid, hell-for-leather breed who carved out a niche of history on the American frontier a century earlier. He was of stocky build, broad-shoulders, stood 5'8″ and weighed 180 pounds. Born in Illinois, by the time he was fifteen, Mossman was drawing full pay as a working cowboy in New Mexico.
As a young cowboy, Mossman earned a reputation as a quick-tempered, wild and restless youth who'd fight at the drop of a hat. He was also very dependable and honest, something that earned the respect of the ranchers for whom he worked. Once he walked 110 miles across a dry, burning desert to deliver an important letter for his boss. He walked the 47-hour journey because he thought it was too dry to take a horse.
By the time he was 21, Mossman was foreman of a large ranch in New Mexico that ran 8,000 head of cattle.  At 27, he was managing a big outfit in the Bloody Basin in Arizona's rugged central mountains. Three years later he was named superintendent for the troubled Aztec Land and Cattle Company, better-known as the Hash Knife Outfit. The fabled Hash Knife was one of the biggest cow outfits in the entire West.  It was also on the verge of bankruptcy when he was called in to try and keep it from going belly up.
It was while running the Hash Knife that Burt Mossman achieved his greatest fame up to that time.  The eastern-owned outfit had been running as many as 60,000 head of beef over two million acres.  Gangs of rustlers, both in the employ of the company and those who set up maverick factories on the fringe had been stealing the ranch blind. The ranch had been frustrated in its attempts to stop the rustling by locals who resented large, absentee ownership, and who, because of land grant advantages, were able to graze their cattle free on the public domain.  Consequently, local juries were prone to find defendants not guilty.  Also the rustlers were able to get a friend on the jury to disrupt things, causing a mistrial or hung jury.  In fourteen years of trying, the Hash Knife hadn't been able to get a single conviction.
Burt Mossman didn't waste time settling into his new job. On his first day the scrappy cowman captured three rustlers and tweaked the nose of Winslow's town bully.  Then he fired 52 of the 84 cowboys on the Hash Knife payroll and installed trusted cowmen as wagon bosses. He visited local leaders in the community and convinced them to take a stand against cattle rustlers. Soon, he had the outfit turning a profit again.
But, Mossman couldn't control the weather, the cowman's greatest nemesis. A prolonged drought, followed by a calamitous blizzard, finished off the company in 1901.
Despite the failure of the Hash Knife, Mossman earned a reputation as a formidable foe of cattle rustlers, along with being a smart, savvy businessman. After the Hash Knife, he headed for Bisbee where he opened a beef market with Ed Tovrea. He didn't stay in that business long.  When the Arizona Rangers were organized, Governor Murphy knew it would take a special kind of hombre to manage more than a dozen, energetic, high-spirited lawmen. One man stood head and shoulders above the rest, Burt Mossman.
Mossman agreed to a one-year enlistment and though his tenure was brief, the Rangers had some of their greatest success during that first year. He located the Ranger headquarters in Bisbee and set about recruiting his force. It wasn't hard. Every young man in the territory with a spirit of adventure wanted to ride with Mossman's Rangers. He selected his men carefully, dressed them as working cowboys, and had them hire out for outfits where rustling had been a problem.  They operated in secrecy as undercover agents and infiltrated cliques of rustlers.  They kept their badges concealed and pinned them only when an arrest was imminent.