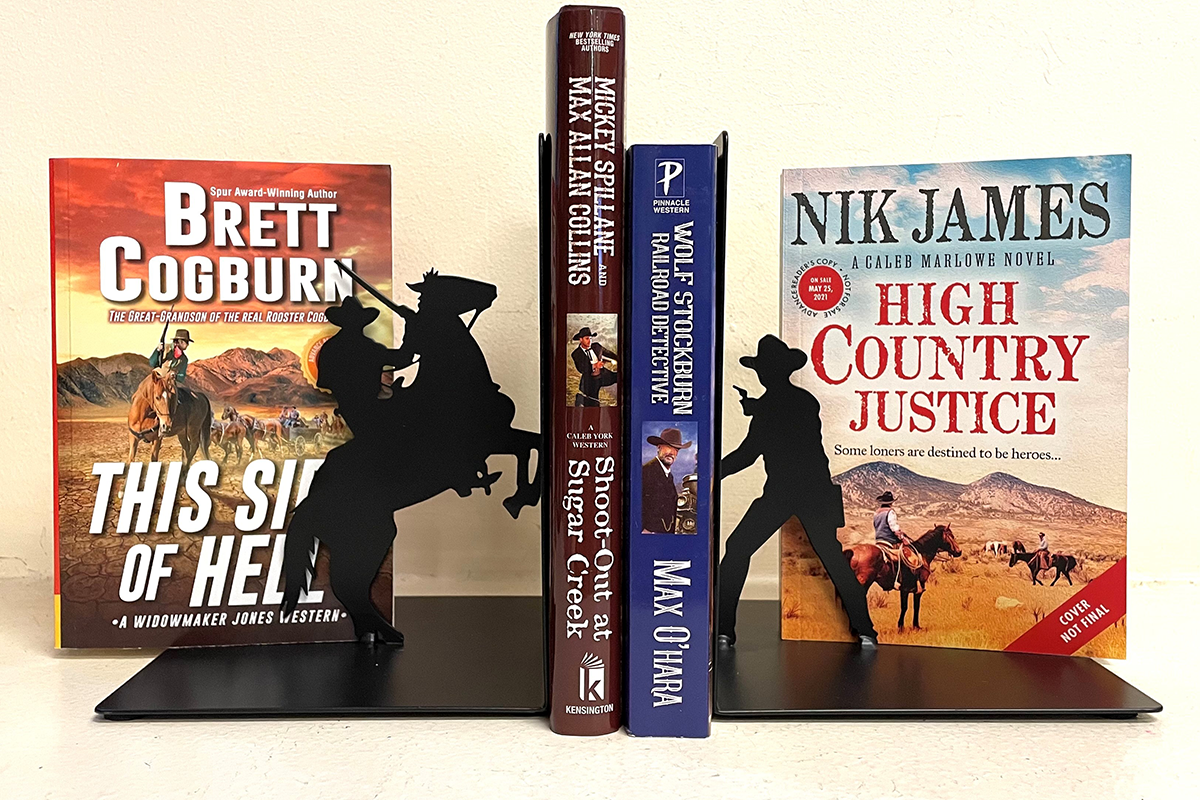 Enter the Frontier Fiction Giveaway
Head into the bold frontier with this rip-roaring book bundle giveaway featuring new and forthcoming releases from Nik James, Brett Cogburn, Mickey Spillane and Max Collins, and Max O'Hara!
Four winners will receive copies of HIGH COUNTRY JUSTICE, the first book in the brand new Caleb Marlowe series by Nik James; the series starter WOLF STOCKBURN, RAILROAD DETECTIVE by Max O'Hara, THIS SIDE OF HELL by Brett Cogburn, and SHOOT-OUT AT SUGAR CREEK by Mickey Spillane and Max Allan Collins. Plus, one grand prize winner will also get a set of black metal Western bookends that are sure to keep your books in line. To enter, click on the link and fill out the form before May 21st!
Enter to win HERE.
Founded in 1974, Kensington Publishing Corp. is located in New York City and is known as "America's Independent Publisher." It remains a multi-generational family business, with Steven Zacharius succeeding his father as Chairman, President and CEO, and Adam Zacharius as Vice-President and General Manager. As the foremost independent commercial publishing house in the United States providing hardcover, trade paperback, mass market, and digital releases, Kensington publishes the books that America wants to read.
The house of New York Times bestselling authors, including Fern Michaels, Lisa Jackson, Joanne Fluke, William W. Johnstone, and many others, Kensington publishes over 500 fiction and non-fiction titles each year. Its diverse imprints – Kensington Books, Zebra, Pinnacle, Dafina, Citadel Press and Lyrical Press – are well known for providing readers with a range of popular genres such as thrillers, romance, historical fiction, cozy mysteries and non-fiction, as well as true-crime, western, and commercial fiction titles.