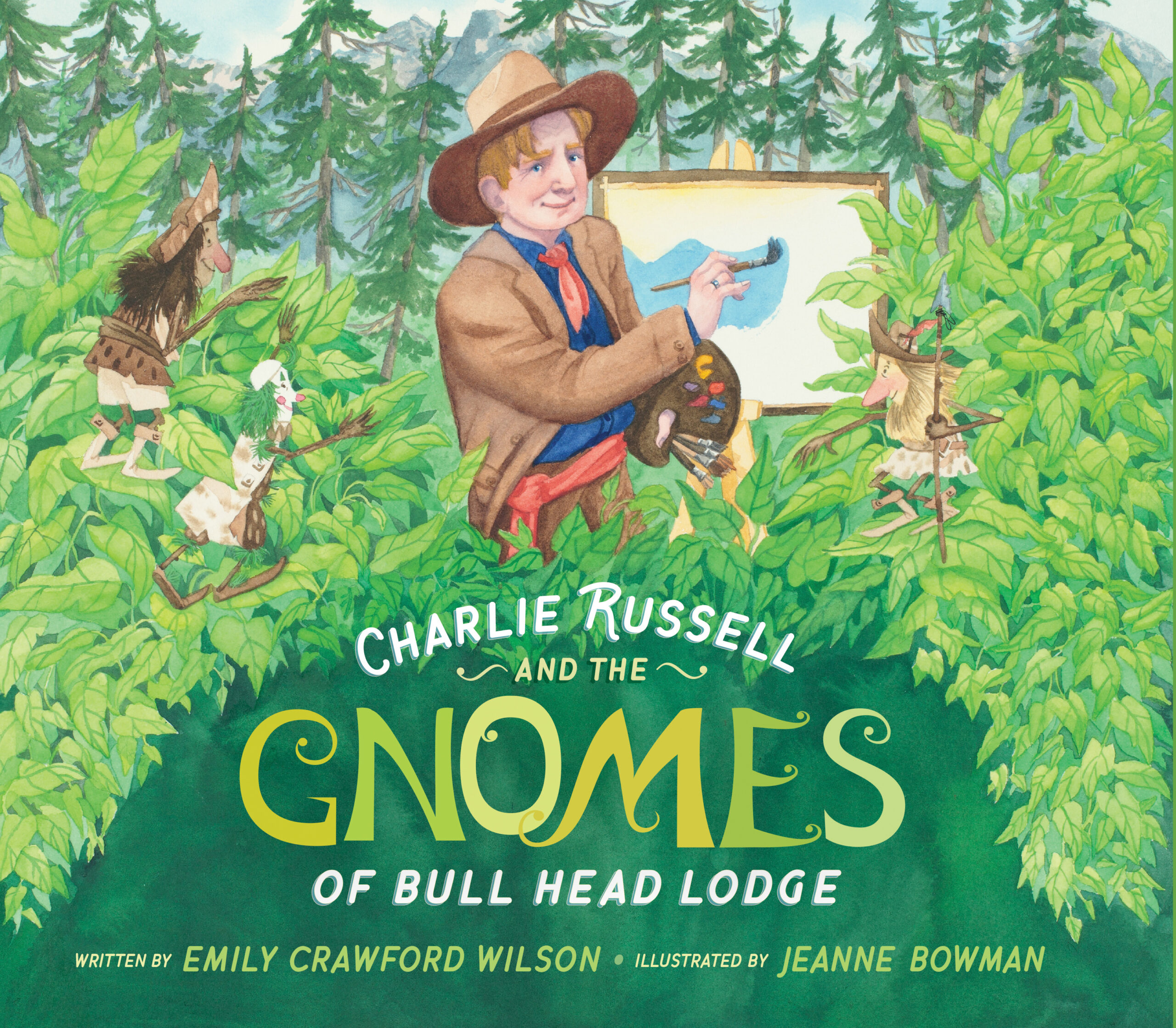 By Karen B. McWhorter, Whitney Western Art Museum
Charlie Russell and the Gnomes of Bull Head Lodge whisks readers away to a clean-aired place where a crunch and crackle among the pine needles might be the western wind…or perhaps mischievous gnomes. Whimsical illustrations complement the lyrical prose of a story spun with magic but based in fact.
All readers, but especially fans of western American art, will appreciate references to aspects of Charles M. Russell's life. Details about Charlie's friendship with Joe De Yong, his beloved Bull Head Lodge and its environs, and his working methods provide structural support for a tall tale Russell himself would have heartily enjoyed. Archival imagery incorporated into the watercolor illustrations evidences the story's roots in reality, and the book also includes an epilogue complete with recommendations for further reading. It is easy to foresee an adult reader, having tucked in a sleepy child after bedtime stories, then tucking this book under their own arm to spend more time with those last, contextualizing pages.
As the story begins, readers are introduced to a fox, who, with a knowing grin, proceeds to watch the story develop from the periphery. Alongside this sneaky spectator with a sparkle in its eye, readers will feel as if they, too, are peeping out from behind a tree here then there, having luckily stumbled upon a fairytale unfolding.
Prudently, Wilson cites the significance of the story's setting – the area now known as Glacier National Park – to many Native peoples. And it is the Kootenai who ultimately become the inspiration for the helpful gnomes, and, later, a rejuvenated Charlie at his easel.
This is a book best read out loud. Flowing visual descriptions invoke the senses and bring the scenery to life. Alliterative passages – "birch bark bodies… and black button eyes" – and the POP! POP! POP! of the gnomes lend buoyancy and rhythm to the story. The author crafts distinct personalities for the artist-protagonists and their comical, pint-sized pals. Reciting Charlie's lines, one gets the sense of his casual, colorful persona. His affect is skillfully described, based on the many letters he wrote to friends.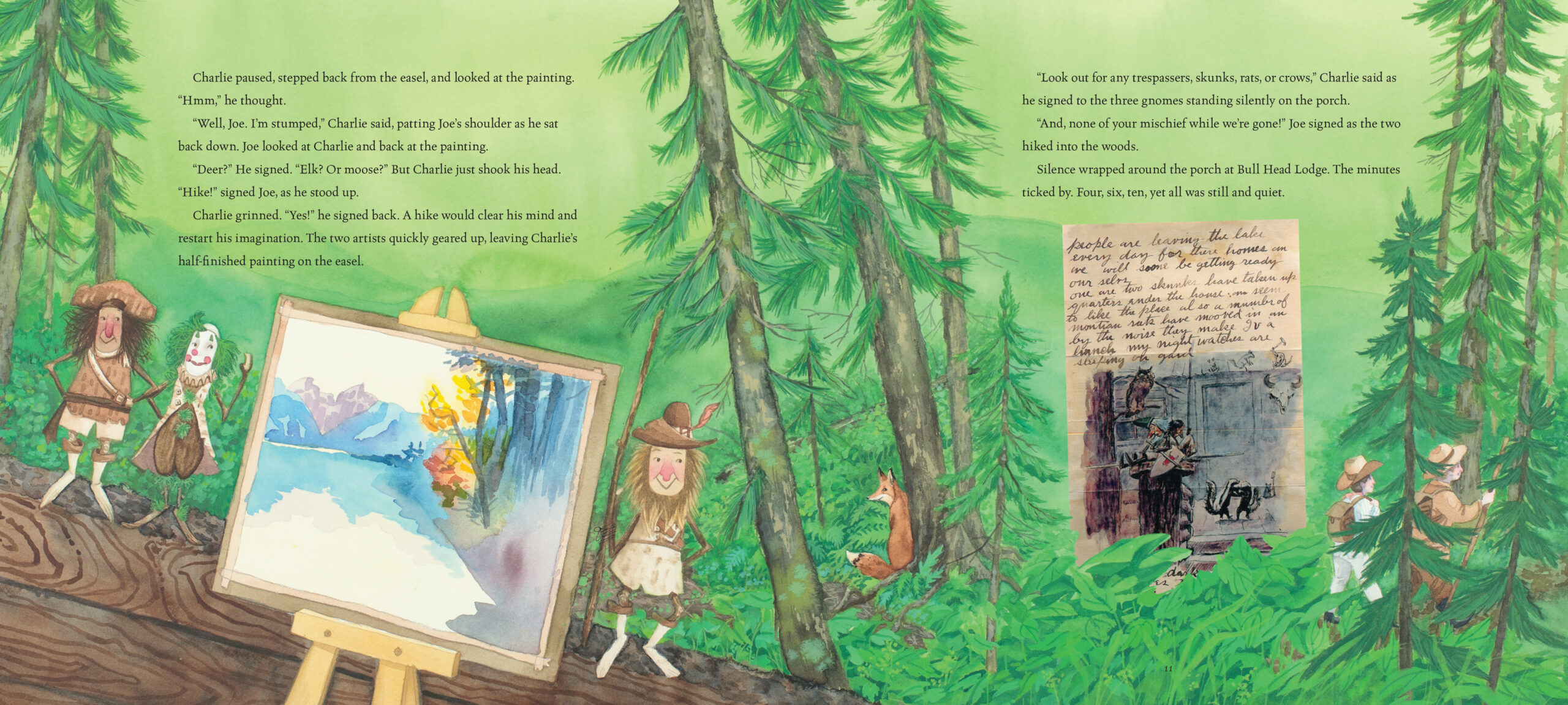 Bowman's illustrations offer compelling and creative vantage points onto Wilson's story. Her palette is dominated by a kaleidoscope of verdant greens and she uses a range of watercolor techniques to create a world begging to be explored. Each page is thoughtfully composed, rich with detail, and hiding little surprises. Basing the gnomes on Charlie's own creations, Bowman amplifies the figures' affability. They look the part of smiling sprites with a trick up their sleeves, and readers will want to make a gnome of their own following the instructions at the book's end.
Charlie Russell and the Gnomes will surely introduce new audiences to the cowboy artist, and foster among its readers a reverence for still-wild spaces and an eye for the fun and fantastical in the everyday. There are lessons for readers young and older in this book, one of which is that everyone – even the most talented of artists – will at times encounter challenges in pursuit of a goal. But, like Charlie, we can choose to counter "stumped" feelings by spending time in nature and with friends, taking a break, and welcoming the help of others. And like the gnomes, we might use our imaginations and seek inspiration from history to kickstart creativity.
*This piece was originally written as an advance review of Charlie Russell and the Gnomes of Bull Head Lodge written by Emily Crawford Wilson and illustrated by Jeanne Bowman. Find out more at sdhspress.com.
Visit www.sdhspress.com