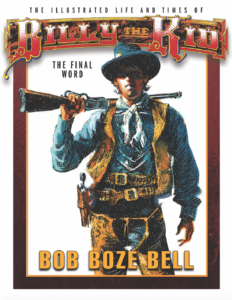 The Illustrated Life and Times of Billy The Kid: The Final Word (Two Roads West Publishing, $24.95) is Bob Boze Bell's magnum opus on the subject matter he has spent his entire adult life tracking–the true story of the Kid.  With many never-before-published photos, Bell's Final Word is profusely illustrated with more than 460 images, including over 100 paintings and illustrations by the author, as well as rare maps and images that provide a vivid look into the numerous controversial episodes in the Kids short life.
"I have been researching and studying the life of Billy the Kid for at least four decades," says Bell.  This is my third—and final—book on his short and violent life, and I believe it's finally time to tell the truth about one of the biggest lies in the entire saga."
In The Final Word, Bell contends the "contorted and ridiculous Pat Garrett version" of how the Kid died is "a total lie." "I don't believe Billy was walking in his stocking feet across the parade ground to get some beef," says Bell.  "I don't believe he was armed with a Colt Thunderer."
The Final Word is already garnering raves from some of the leading lights in the Old West field. 
"With its invaluable timeline for the Kid, numerous historic photographs, and, of course, Bell's arresting artwork, I was immersed in the color, mayhem, and tragedy of the Kid's world. There wasn't a Billy book I enjoyed more, and this welcome new edition is even better," says Mark Lee Gardner, author of To Hell on a Fast Horse: The Untold Story of Billy the Kid and Pat Garrett.
Apache Legends & Lore of Southern New Mexico author Lynda Sanchez says "Having lived in Billy country for almost fifty years, I believe that Bob's intriguing mosaic of historical vignettes, art and images will blow the lid off the staid and proper history books. It will bring in new readers and the colorful legend and life of Billy will continue for yet another century."
Bob Boze Bell is a beloved chronicler of the American West. BBB has written books on the life and times of Old West legends Billy the Kid, Doc Holliday, Wyatt Earp, Wild Bill Hickok, Geronimo, in addition to Classic Gunfights I, II & III. All popular–all heavily illustrated–these books have sold more than 100,000 copies. Bell is also the executive editor of True West Magazine.
The Illustrated Life and Times of Billy The Kid: The Last Word is available through Amazon and the True West Magazine Store. Purchase the Billy the Kid tshirt, mug, and poster.
Save the Date: January 25th at 5:30pm MST. Facebook LIVE with Bob Boze Bell. Join the event Here.